Xavier Cross Country Team Interview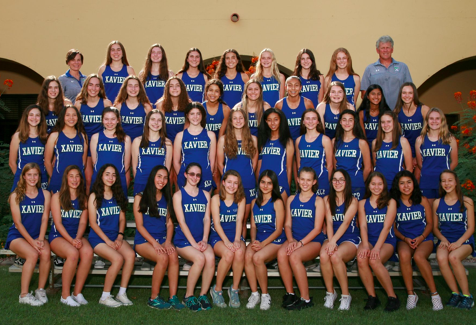 Cross Country is a sport that requires pace, training and a lot of endurance! Though many people may think running is easy or boring, we should consider the perspectives of Cross Country runners themselves before forming an opinion.
The Xavier Cross Country Team is performing well this season. Erika Germinario '22 and Tatum Goforth '22 are two members of the team. These two runners have similar, as well as different, reasons for running and competing.
Erika said, "I ran a little in middle school, but I started up again last year because my older sister ran in high school." Overall, Erika is one of the top runners at Xavier and placed 21st at the Ray Wherley Invite in the Female 5,000 Meter Varsity out of 175 other racers! Though she is currently not participating in meets due to injury, she is still one of the most inspiring members of the team.
Tatum stated, "I joined cross country because I had been running before and enjoyed it as kind of an individual sport that comes together as a team," and added, "I have been running 'officially' since I was in 7th grade when I joined my junior high team, though it wasn't anything compared to high school… so about four years." Altogether, Tatum is also now one of the top racers at Xavier and she recently placed 19th at the Nike Desert Twilight XC Festival in the Female 5,000 Meter Open Race out of 496 other girls! She was the first Gator to pass the finish line.
Training is not something one can forget about or miss because it shows your commitment to the team and overall makes one a better athlete. Tatum mentioned, "I train five days a week as a team and then one day by myself. Sometimes I lift weights as well after school." Erika went on to say, "We usually train together on Monday, Tuesday, Wednesday, Thursday, and Saturday." These types of practice require great discipline. Runners wake up to run early almost every single day and still have to finish all of the homework received before bedtime. Everyone on the Xavier Cross Country Team has to agree to this pledge to stay healthy and strong. Both Erika and Tatum stated races are usually once every week, but not everyone races at every event.
Tatum admitted: "It's hard, brutal even, but it's just a part of the sport and it will ultimately be the reason I become a better athlete." Pushing yourself is always better than not trying at all. Joining a team can and will make one a better athlete, regardless of the sport. Erika continued with, "The training is hard and takes a lot of discipline, but the results are worth it!" At Xavier, Cross Country is the only sport that trains in the morning and because of this, the Cross Country Team has to regulate their lives differently. 
Erika stated: "I would recommend joining as long as you are willing to wake up super early." Waking up early is a huge task to accept and the Cross Country girls have to schedule how they are going to complete their homework every day. Tatum also recommends joining: "I would recommend others to try out next year, it's a great way to become part of a community of sorts, the people are all very open and friendly, and the sport is hard but rewarding in many ways."
Overall, Xavier Cross Country is a demanding team sport that takes self-control, discipline, and a strong desire to win, but do not be afraid to try out next year! The team is challenging, yet fun! The friendships made are lasting and you become a part of the Xavier Cross Country community. The benefits always outweigh the hard work in the end.