Introducing Esports!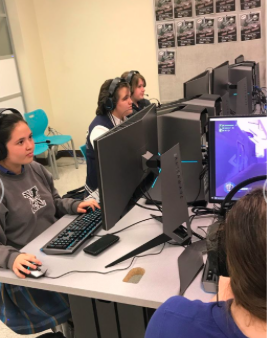 Are you interested in a competitive environment supported by wonderful teammates, but dislike strenuous athletic activities like running or shooting hoops? Maybe Esports is for you! Esports has been described as a world of competitive, organized video gaming. This growing industry has emerged within the Xavier community.
Have you imagined if you could use the skills you have been practicing on your personal at-home video consoles on a school team? And win prizes for your hard work?! Well, at Esports, this dream can become a reality. Some of your favorite games such as Counterstroke, Overwatch, League of Legends, and Hearthstone are played at Esports! Junior Ciara McGarry '21, a member of Xavier's Esports team says, "Anyone can play esports, like any skill, it takes time and practice to get good at a specific game, but anyone with dedication can learn." Esports holds tournaments that entail teams battling each other through chosen games. These tournaments stretch far beyond just a computer lab at a high school. This year's League of Legends world championship in Paris took place in a stadium of about 20,000 people with 1.7 million people streaming at home. Esports is not exclusive to the online video-game realm. Major media networks including ESPN, TBS, SyFy, and Telemundo all broadcast esports. Owners of the NBA and NFL teams have added ownership in esports teams. Unlike a traditional sport, where you may organize people into the same physical location, with gaming, you can play with people from all around the world instantly with just an internet connection. Being that it is easily accessible, many people can participate. 
McGarry "didn't want to miss the opportunity" in joining esports because she recognized the low percentage of female participants in the gaming industry. As of right now, there are no women enrolled in the League of Legends Championship Series, but that is taking a turn as female player, Ellie, has made it into the Pro Overwatch League. Hopefully, we will see more females follow her lead. With the new Esports varsity program, started by the AIA, people are more encouraging of the art of video gaming! In the US, over 600 colleges and universities have added varsity esports teams and/or scholarships for esports. McGarry says, "I'm glad to be part of Xavier athletics because I feel like nontraditional varsity sports such as Mock Trial, Robotics, and Esports can get overlooked amongst the other, more popular and traditional, high school sports. The athletics office has been amazing with getting the team started and supporting us, especially with this new season."
You can be a part of Esports by contacting Ms. Peinado at esports@xcp.org