Top Christmas Movies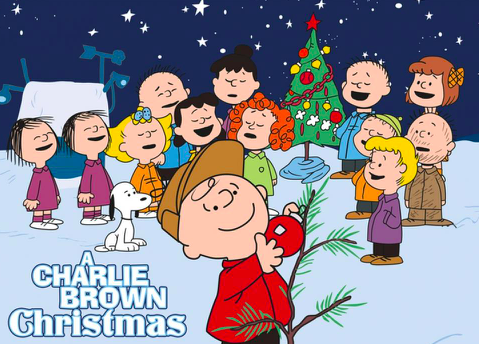 With the holiday season just around the corner, the scents of peppermint, pine, and cinnamon circulate through the air. One of the best ways to get into the festive spirit is by snuggling up with loved ones to watch a Christmas movie. However, choosing which movie to watch may be a challenge, as there are hundreds of classics to choose from. Here is a list of the top five Christmas movies to watch this Winter when choosing a movie is just too hard. 
Elf is a comedy centered around the life of a man who, after being raised by elves, sets out to find his birth-father. With Santa's motivation and advice he travels from the North Pole to New York City. There, he runs into some chaotic issues adjusting to human life such as wearing "normal" clothes or eating "normal" foods. Overall, this movie focuses on family and the importance of believing and having faith. Elf will be sure to set a cheerful mood for this Christmas season. 
A Charlie Brown Christmas (1965) 
The holiday classic, A Charlie Brown Christmas, follows the adventures of the Peanut group through their Christmas season. When Charlie Brown takes his friend Lucy's advice and directs the school Christmas play, not everything goes as planned. Charlie Brown shows his friends the true meaning of Christmas through his unusual Christmas tree, which is small and barren. This movie reminds us that caring for others is an important aspect of being in the Christmas spirit. 
The Nightmare Before Christmas (1993)
The animated film The Nightmare Before Christmas tells the story of the king of Halloween finding a secret passage into the land of Christmas. He is enchanted by this new world of snowflakes, peppermint, and christmas lights. All of this makes him want to take over Santa's job. However, his halloween lifestyle centers around scaring people, instead of spreading cheer which interferes with classic Christmas traditions, such as gift giving or decorating. This heart-warming story is a great movie to watch as a transition from fall into winter. 
The Santa Clause is a film about how Scott, a single dad, becomes the new Santa Clause. On Christmas Eve, Scott hears clicking and thudding on his roof. As he goes up to investigate, he ends up knocking Santa off his roof, sending him plummeting to his death. He is taken to the North Pole, where he is told that he will have to now take on the role of Santa. When he wakes up the next morning back home, he believes it was all a dream.  However, the weight he began to gain and the beard he began to grow magically would not go away, he begins to accept his new role.This comedy is a fun movie to watch with kids or friends this Christmas Season. 
This film, The Polar Express, animates an exciting train ride to the North Pole filled with wonder and enchantment. When a young boy questions the meaning of Christmas, he is taken on an exciting trip up to the North Pole. Here, he meets many new friends on the train who teach him new lessons about friendship. On his journey, he learns about the power of believing in himself. This inspirational film is a classic sure to bring great joy to your Christmas this year. 
Watching classic holiday movies cuddled up with blankets and hot chocolate completes the Christmas season. The list of the top five Christmas Movies to watch this year is intended to make choosing a movie just as cheerful as Christmas morning.