Xavier's Mother Daughter Mass 2020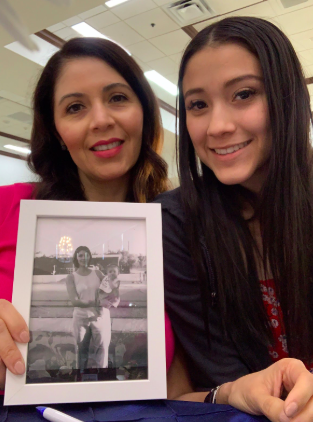 The seniors at Xavier College Preparatory are saying farewell to their mothers as the end of the 2020 school year closes. Every year Xavier has held this special event for seniors to participate in with their moms. This event was able to happen through Xavier's Mothers' Guild. 
The Senior Mother/Daughter Farewell took place on February, 29, 2020 in Founders Hall from 9 am to 12pm. To kick off this event, the mothers and daughters were given a complimentary photo to commemorate the moment. After that, the mothers and daughters went into the chapel where a beautiful mass was led by Father Cruz. Father Cruz spoke about Mary, the mother of Christ, and connected the biblical story to Xavier's moms. When the mass was over, everyone went into Founders Hall to enjoy a wonderful breakfast as they listened to the touching story of a Xavier Alum's powerful relationship to her own mother. To end this magical event, the seniors wrote thirty-one reasons why their mother is special to them and shared it in person which led to many happy tears and laughter. The seniors then received important letters from their family members and close friends. The Mother/Daughter Farwell is an event that the seniors and their moms will hold dearly to their hearts. 
Hallie Jonkosky 20' shared her favorite part about the Mother/Daughter Farewell "My favorite part about the Mother/Daughter Farwell was just being able to spend time with my mom."
Many of the seniors that went enjoyed the time they spent with their moms. They thought that this event was a great bonding experience. During mass, the seniors and mother received matching bracelets that have a special secret meaning to them through unique charms. During breakfast, the moms were able to socialize with the other moms at their tables and share stories of their daughters growing up. The Mother/Daughter Farewell should be a tradition that is carried on throughout Xavier forever!