Seniors Making the Most of Online School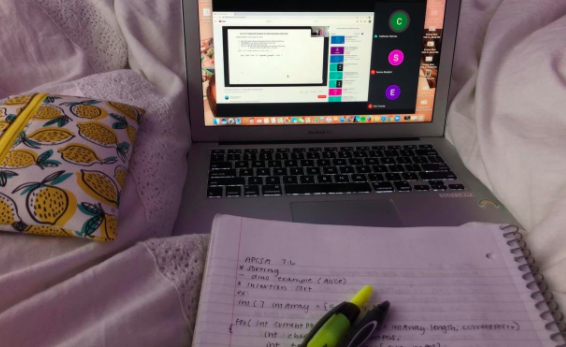 During the COVID 19 outbreak Xavier College Preparatory, as well as Brophy College Preparatory, has made the decision to continue educating online. These online classes have been called "distance learning" and allow students to keep learning safely while at home. Students attend each of their classes during the time of the day they normally would. Many classes have an interactive feature such as a video call or a group discussion board. The last official day of on-campus school was Friday, March 13. Sadly, this means that no students or teachers will be returning to campus for the rest of the 2019-2020 school year. 
This was especially heartbreaking news for the senior class of 2020. School being canceled impacts big moments at the end of senior year such as Prom, Fashion Show, and Graduation that students look forward to their entire high school career. But just as importantly, it affects the small and special things that come with the last three months of highschool. Sophie Cohen '20 says, "It's weird to think about how I didn't realize it was my last day of school until it had passed." The last day of school, Tour De Xavier, college shirt day, and more are some of the things that 2020 Seniors will not get their chance to do. 
However, despite all the challenges and setbacks our seniors have faced, seniors will be able to finish strong. They have made the most out of their last moments of senior year, keeping up with classes, staying in touch with friends, and patiently waiting for their celebration to come. Xavier hopes to reschedule prom and graduation at a later date when it is safe to gather together.