Fall sports: How are they adapting during these times of uncertainty?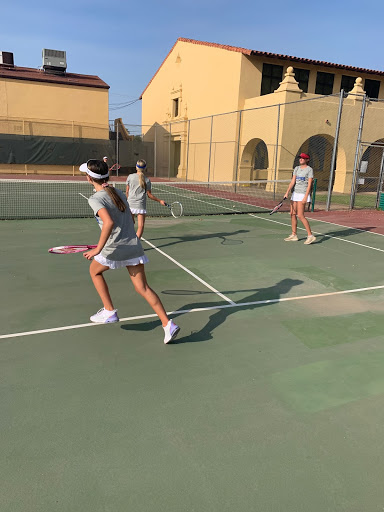 As the reopening of schools is up in the air, so is the continuation of fall sports. Despite the fear of returning to normal life, schools are trying to implement strict rules that will allow sports to continue.  
When the lockdown hit the country in March, the closure of schools also called for the cancellation of spring sports. Now, about six months later, things are certainly different but Xavier is proud to be moving forward with athletics while doing its best to take necessary safety precautions.  
This past month, Xavier held multiple open gyms for students who were interested in volleyball and badminton. Swim, mountain biking, golf, spiritline, cross country and many more have also started practicing for the upcoming season. 
With these practices and open gyms starting back up, safety precautions must be taken. Xavier has implemented rules consisting of taking athletes' temperatures, hand sanitizing, social distancing, and practicing in small groups.  Students must also fill out daily symptom checks before practices. 
According to freshman Paige Maher, tennis "always has the girls separated in groups so that we can be able to spread out." Ava Mayberger, a junior on the golf team, said, "Our new precautions for Covid-19 include social distancing, wearing masks inside the clubhouse and locker room and continuous sanitization."
Regarding sports games/matches/competitions, family and friends of athletes who want to observe cannot due to social-distancing guidelines (with the exception of volleyball and badminton that are allowing a maximum of two parents per home athlete). To resolve this issue, Sister Lynn Winsor, Xavier's athletic director, mentioned Xavier's use of a brand-new piece of technology called "Pix-a-lot". Cameras are put into gyms and fields so all sporting events are able to be viewed online. 
Despite the many changes and uncertainties, Sister Lynn said that "more students than ever" are trying out for fall sports. She stated that cross country has 40 athletes, tennis has 94 athletes, and swim and dive has 35 athletes- all much higher numbers than usual for Xavier sports' teams. As for golf, Mayberger said "Our team has grown substantially with eight new freshmen, totaling sixteen players."
The large number of athletes trying out for fall sports is quite interesting to Sister Lynn considering how unknown things in life are right now. Whether it is due to boredom, a desire to get involved, or a way to meet new people, Xavier students have had desires to join sports teams like no other. Overall, Xavier sports are "in a good place" according to Sister Lynn.