Class of 2024 freshman orientation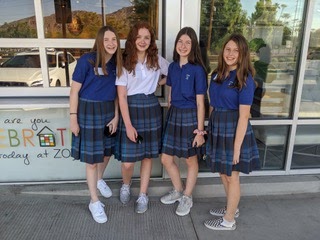 On August 11 and 12, freshwomen came in five groups of 25 -30, along with their parents, to a freshman orientation. All had to wear masks, sanitize hands, and take temperatures before coming into the Performing Arts Center for their first day of school. This year, the frosh watched a welcome video at home before visiting campus. 
In years past, freshwomen have braved their first day of school without parents, but the class of 2024 had their parents in Founders Hall for presentations from the admissions, administration, and development departments. 
Freshwomen still participated in a classroom scavenger hunt and met their teachers, with social distancing policies in place. To give these young women a glimpse of life as a Xavier Gator, Sister Lynn, Principal for Activities and Athletics, introduced them to faculty/staff, and Alli Gator. 
They also got to see Xavier's Best of Rallies video so they could experience the energy of school events. They then engaged their own energy and enthusiasm in small group discussions and ice breakers with fellow freshwomen. Like the ending to all  pep rallies, the Xavier Executive Board and Senior Student Council officers taught the new students  the Alma Mater. 
 The freshwomen ended the day by meeting their parents, and leaving the school with treats, waters, Xavier plaid scrunchies, and Xavier pens. 
Even though this year's freshman orientation was anything but normal, this year's young women made the best  of their first day and adjusted to online school methods when they couldn't be on campus for the second day. One of the freshwomen, Isabelle Cordell, said, "Online was a little awkward since we didn't know each other or the teachers, but once we got to actually go to school it was really fun." This freshman orientation may have been different, but it ended up being  fun and an overall good experience for all.