Xavier golf regains state title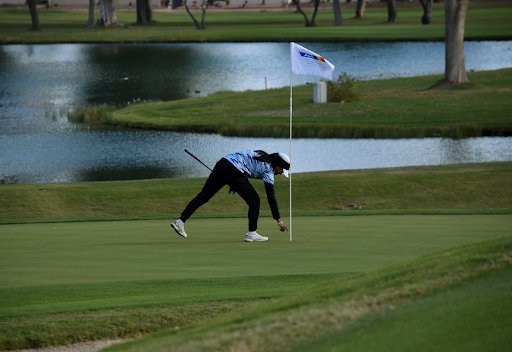 The Xavier College Prep golf team had a successful season, finishing first place in the state championship. The Gators, with the leadership of Coach Tui Selvaratnam and Sister Lynn Winsor, were able to finish strong.
Last year, Xavier placed second in the championship, just behind Pinnacle. This year, despite the ups and downs, Xavier was able to narrowly win, 626 to 629. 
Although Pinnacle won the invitationals earlier in the year, the XCP team was confident in their abilities, ready to seize the tournament. "We have nothing to lose!" Xavier golfer Lauren Garcia said during the tournament.
Despite their nerves, the Gators were ready to take home the championship. Sister Lynn, head coach, said it was "very exciting, nail biting."
The team started off strong, with a six shot lead by the end of the first day. Later, they ended up leading by 16 strokes. Despite their impressive start, Pinnacle started to catch up.
By the end of hole 17, the Gators maintained a lead, but not by much. They went from an astonishing lead of 16 after hole 11 to just barely ahead.
Players stayed focused, and didn't let anything rattle them. They were confident in their abilities and kept their composure.
Coaches continued to encourage and support the Gator golfers. "Have faith, this team's got it, we're gonna win this," said Sister Lynn. With faith and confidence, the golfers were able to persevere.
Senior Kate Hauptmann had the lowest score, placing in third, with junior Ivy Song close behind, placing in sixth. Hauptmann, one of the longest drivers on the team, drove XCP through the finish line as she parred one of the last holes. "Everyone knew [we had won] at that point," said Sister Lynn. 
At that moment, the team, coaches and supporters burst into cheer, excitement and pride. They were the underdogs, but did not let anyone get in the way of their talent. "We were very happy for our girls," said Selvaratnam. The overwhelming support, despite the limited crowd, was a major factor in the win. Only five players, along with nine alternates, were permitted to be present at the end of the tournament, but teammates were rooting for players and keeping them in prayers the entire time. 
Sister Lynn believes they were so successful through "the power of prayer, the power of great golfing and the power of courageous and talented girls."