Ceramics class provides an adapted learning experience for students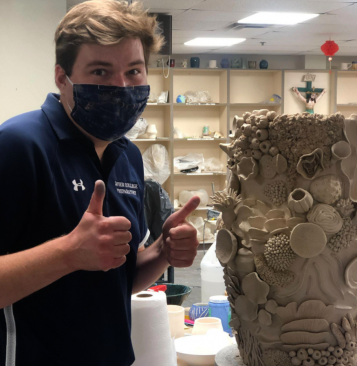 This year, the ceramics program at Xavier has adapted to create a safe, yet immersive, learning experience. Ceramics class has been a student-favorite at Xavier, and the changes implemented this year due to Covid-19 have preserved the experience.
Zachary Carlson has been the ceramics teacher at Xavier for two years now. He teaches six periods of this discipline.
Students are currently working on the face-jug project, which is one of Mr. Carlson's favorites. These jugs are inspired by the nkisi dolls of the deep South in the 1800s. The jugs are sculpted with a face on the front, and can be used as decoration or storage. 
Students are often given studio days in which they can work on their projects and receive help or advice from Carlson.
Carlson said he liked to provide the same experience for students this year as students before Covid-19. While the class has remained as consistent as possible, some changes had to be implemented. For instance, the class had to accommodate online-learners. To do this, project size was often reduced due to limited space and supply at home.
Furthermore, projects featuring the pottery wheel were not able to be done this year due to lack of machinery for students at home.
To help students at home keep up with their projects, photo submissions were also required this year.
Sanitizing, said Carlson, "is very important to me." Once a piece of clay, surface or machinery has been touched, it must be sanitized to ensure student safety. 
In addition to the regular ceramics classes this year, a summer school ceramics class will also be held.
This will be the second year of summer school ceramics; however it differs from summer school last year. Last year the ceramics class took place online, but this year it will be held completely in person. Additionally, the class will be open to Xavier students of all ages, whereas last year it was only open to incoming freshmen.
Summer school ceramics has already become a popular choice for students, as it is already over halfway filled up. Students who want to attend a ceramics class this summer can easily sign up through Gatornet. 
It is a 13-day program from June 1 to 17, and each student will receive half a fine arts credit after successfully completing the course.
It is a great opportunity for students to meet new friends and it can be especially beneficial for incoming freshmen to get oriented with the campus.
"It's a fun, hands-on class where you can relax and express yourself," said Carlson. "You don't have to be the best, you just have to try your best."