Seniors participate in fine arts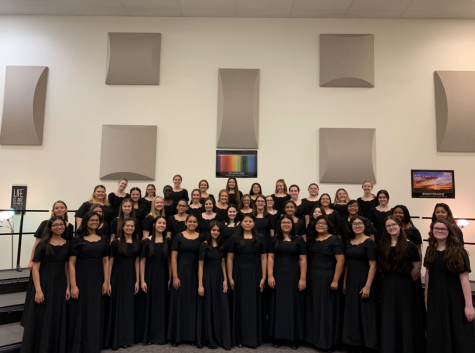 The fine arts department at Xavier has created an environment for growth, creativity and expression. Seniors in the dance department performed their final dance on the Xavier campus on April 22. 
Senior Jeni Tran performed in this showcase. She has been dancing at Xavier for three years and she has created memories and friendships. "It's a way for me to express my feelings without having to say it out loud. Dance is a class where we can relax, be serious, goof off, learn, and just have fun," she said. 
 Tran encourages all students to try out a dance class whether that be Introduction to Dance or Dance Basics. "Always remember to put feelings and passion in your movements," she said.
Senior Alexa Heller has been dancing at Xavier since her freshman year. She is planning to go to college to study dance and says she wants to join dance clubs. Heller said her favorite thing about dance is that she is "able to express myself through the power of music and choreography and that there is no judgment in the studio. You can let your creativity roam free throughout choreography." 
Heller's advice to freshmen who are looking into joining the dance program is "to have fun. Dance doesn't require any skill, just the effort you put into it." 
Heller performed in a group dance at the dance performance, featuring detailed choreography and elaborate costumes.
Choir is another fine art at Xavier in which students can express themselves. Piper Ringwald, who has been singing for all four years at Xavier, said her favorite part about choir is "getting to sing with my friends and people with whom I have grown very close." 
Xavier choir has won many awards with the help of teachers Brittanie Hockins and Naoko Garrison. Ringwald said choir is special because of the bond formed between the singers at Xavier. Ringwald added that she wants to join a singing group once she gets to ASU. Her favorite memory from choir is "my sophomore year when our choir won three awards at the festival."
On April 29 the Xavier community was able enjoy the work of visual art students at Xavier. Cory Shields and Quiliana Gracia were featured at this event. It was  a time where all students who participated in visual art classes at Xavier were given time to display some of their works that they have done throughout the year. 
The fine arts program at Xavier has created an outlet for students, memories, friendships and creativity. Each year, Xavier says goodbye to fine arts seniors and welcomes the freshmen to this creative, expressive environment.