Frosh follies take the stage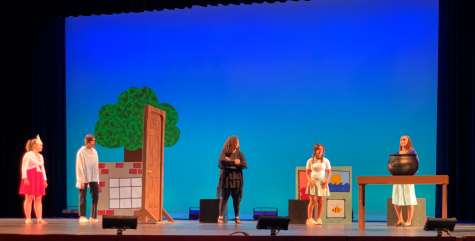 This year's production of the Frosh Follies, performed by the freshmen Introduction to Theatre classes, have been altered. 
Generally, during the spring semester, students participated in a one-act play for two public performances at the end of the semester. The first performance would be seen by elementary school students, and the second performance would be performed in front of friends, family and those who want to see the performance.
For the 2019-2020 school year, there were no Frosh Follies performed during the spring semester due to Covid-19.
"The biggest difference with the Frosh Follies is that we cannot do it for a live audience and we are not doing one big one-act play," said Teresa Corderman, theatre and stagecraft teacher.
In order to stay safe amongst the pandemic, Corderman broke her students into four groups per class and assigned them a fairy tale. The students then went on to write their own fractured fairy tale.
As the students wrote the fairytale in their groups, they changed the characters, plot and location.
"It is nice being a student director and being able to see the different aspects of acting being done from our written scripts," said Bailey Finch, a freshman student director.
According to Corderman, as part of the process to prepare for their performances, the students were split into groups to adjust properly to the hybrid-learning environment. While practicing in class, the online students had their own separate Google Meets for their groups to practice. In-person students practiced in class. 
Camille Alameddin, another freshman student director, said that directing was much more different from acting, especially since she had more control with directing her group's skit with Finch as partner.
Behind the scenes, the stagecraft students worked hard to create the set and scenery. Students contributed to their skits by providing their own costumes. According to Corderman, the costumes used to be provided by the school four to five years ago, but she saw that students were happier being able to pick out their own costume as opposed to what was in the costume room.
Due to not being able to perform in front of a live audience, the theatre classes and the students who were in-person began filming their performances during the week of May 3, and the online students recorded their own performances online and edited them together with their groups. The separate videos will then be edited together into one video to be sent out as a link during the week of May 17th.