Xavier's Transfer Club grows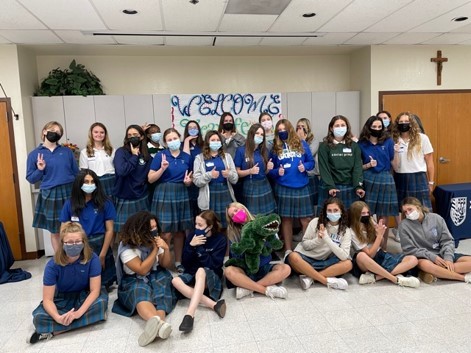 Transfer students are highly encouraged to join one of the only exclusive clubs at Xavier, the Transfer Club.
The Transfer Club includes incoming transfer students, transfer students from previous years and club moderators: Sister Kathleen Sinclair, Xavier guidance counselor Catherine Emmerling and Xavier guidance counselor Beth Valdez.
According to Sinclair, "Transfer Club is a bridge of support and information for our transfers."
The club meets during lunch every other Thursday in Lutfy Hall. At meetings, students are able to meet new people, talk about shared transfer experiences and receive advice from guidance counselors and previous transfer students who serve as mentors.
The students this year came not only in large numbers but also in variation, including students from within Arizona, outside of the state, outside of the country and even outside of the continent. "We're very grateful to have all these people interested in going to Xavier. My advice to transfers is to try new things and give the Xavier community the opportunity to put into action our LBF motto: 'Let's be friendly.' Let us prove to you that we are the friendly campus that we say we are," said Sinclair.
Sophomore Claire Carpita '24 transferred to Xavier this year from Seattle, Washington where she previously attended Seattle Preparatory School. 
"This is my first time going to an all-girls school but I actually really like it! It's also my first time in a uniform, but honestly, the uniforms make it easier to get up and get ready for school in the mornings," said Carpita.
Other transfers share in Carpita's experience with all girls and new uniforms, including junior Eyram Wornyo '23 who transferred to Xavier this year from Accra Girls High School in Ghana, Africa.
Transfer Club Co-President Avery Allen '22 is excited to welcome all of the students saying, "This year's group of transfers is very lively and wanting to participate, so we're really looking forward to getting into the year with more fun activities."
"It's been fun acclimating the girls to the Xavier environment because I was in their shoes last year and I totally understand, so I can't wait to see them grow, find their friend groups and integrate into the community," said Transfer Club Co-President Claire Douglas '22.
Transfers have already received the opportunity to become involved by attending the Club Fair on August 30 where students were able to explore the 70+ clubs, activities and publications Xavier has to offer.