Celebrating the triumphant life of Kylie Rodgers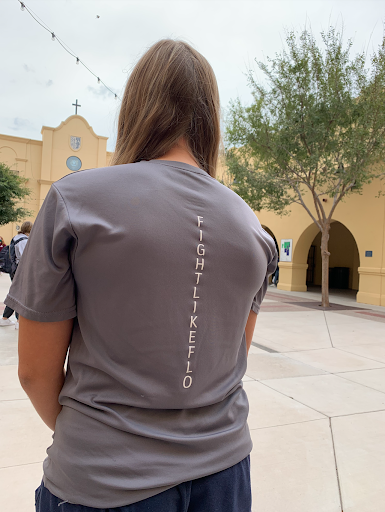 On September 1, 2021, a beautiful, strong and gracious soul was lost. Kylie Rodgers was a Xavier College Preparatory graduate from the class of 2019. She was a talented softball player, an amazing student and an even better friend.
In January of her sophomore year at Xavier, Rodgers began to experience pain in her leg and after many tests, it was determined that she had a rare type of cancer called Ewing Sarcoma. Ewing Sarcoma only affects around 137 kids her age each year. For Rodgers, it caused a tumor to grow on the inside of her bone.
Rodgers moved from Jacksonville, Florida to Arizona between her eighth grade and freshman year. Her softball teammates gave her the nickname "Flo" which was short for Florida. Rodgers and her parents started a Facebook and Instagram page called @fightlikeflo to share her battle against Edwing Sarcoma with those who cared about her.
On July 26, 2017, she underwent  surgery that removed her hip and the upper part of her right femur. According to a Fox News interview done in 2019, Rodger's mother, Mary Kay Rodgers, said, "In less than twelve hours out of surgery, and having a giant piece of metal put inside her body, she sat up, stood up and was ready to go."
One of Rodgers's treating physicians, who happened to be a Xavier dad, said, "I'll always remember my first time meeting Kylie. It was clear that she was one of those people who wasn't going to let her adversities define her. She fought her diagnosis with positivity and a drive to pursue what she loved: spending time with her family and friends and living her best life. Her outlook was so contagious it inspired everyone who had the privilege of meeting her."
Her motivation? Rodgers says in the same interview by Fox News that "playing softball is what makes me the happiest in the world, and so if I can do that again, that is everything."
On February 27, 2018, Rodgers finished her last round of chemotherapy and was announced cancer-free. Her main priority after getting better was wanting to get back out on the softball field.
In a previous Xavier article written by Don Ketchum in 2018, Rodgers said, "I definitely want to play again. It depends on how my leg responds to the therapy. I'm not allowed to run yet. If I don't get to play, I still will be supporting my teammates. But I'm going to do everything in my power to get back out there."
She returned to school after spring break and supported her team by shagging balls, doing laundry and providing water and hair ties to players who may have forgotten them. Her ultimate goal was to return to pitching the following season.
She was loved and appreciated by all who knew her, especially her teammates. Senior Elliot Smith said, "Kylie was one of the best people I ever had the chance to meet. She was the strongest person I ever met. She was always positive even when she had every reason to be negative or angry. She was easily the biggest supporter of Xavier Softball and she will always be a part of the team."
After she graduated from Xavier in 2019, Rodgers was accepted to the University of Washington. She always wanted to go into the medical field but she chose to major in biology with the hope of becoming a pediatric oncologist. She wanted to help other kids who went through the same thing she did.
In early September of 2019, Rodgers's mom made a heart-breaking post on Instagram that read, "Kylie had her 18-month scans last week, and a mass showed up on her left lung. Biopsy Thursday, results Friday, and to our horror, after 18 months of NED, Rodgers relapsed."
On September 1, 2021, after a five-year battle, Rodgers passed away. The loss tremendously affected all who knew and loved her, including the Xavier community. A post made on Instagram by @crownsofcourage said, "Struggling to find the words and there just aren't any that can do this girl justice."
Her cancer came back just six days before she was supposed to leave for college. However, she did not let this set her back from making her mark on the University of Washington. Her sorority posted on their Instagram @uwkappa after her passing saying, "She made such a huge impact at KKG and UW, and we honor her amazing legacy, her fierce determination, her resilience, her huge heart and amazing spirit and most of all, her love for all of us and everyone who has to battle this evil disease."
Rodgers's celebration of life was held on Xavier campus at Petznick Field on October 2, 2021. It was a beautiful ceremony at one of the places she loved most, the softball field. Xavier also held a buck-a-sweans in Rodgers's honor in which students raised over 1,600 dollars for linktr.ee/KyliesWishes, some of Rodgers's favorite cancer organizations.
The Xavier softball team is far from done commemorating their strongest teammate. Meghan Schouten '22 said, "Kylie is the kind of person that lights up a room with her personality and presence, stemming from her dry sense of humor to her sisterly advice. Our team has plans, which have not been fully developed, to commemorate her in our upcoming season in the spring because we feel that she deserves that honor, and we hope to continue to share her story and beautiful life."
Rodgers was a bright light in a sometimes very dark and scary world. She was positive and determined and fought as hard as she could until the very end. She was an inspiration to all who knew her or even knew her story. Rest in peace, beautiful and strong, Flo.