Xavier raises thousands of cans for the Canned Food Drive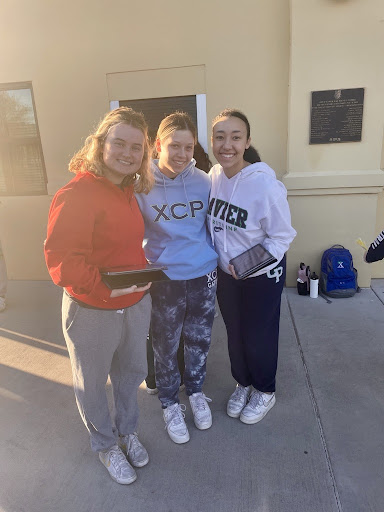 Every year Xavier holds its annual St. Vincent de Paul Canned Food Drive. Xavier's staff and students bring in thousands of canned food and money to help feed the less-fortunate and hungry.
St.Vincent de Paul is an organization that helps feed, clothe, house and heal the Phoenix community. They prepare approximately 4,000 meals a day for the hungry and are always striving to help those in need. 
Xavier's National Honors Society, moderated by Tara Metzger, helps organize the drive by collecting cans and money every morning for the last four weeks at the Bidwill Circle. Each National Honors Society member is required to donate at least $25 or 50 cans in order to raise help for the cause.
"The canned food drive is such a success each year because of Xavier's incredible community. Everyone is so willing to pitch in money and cans, cover shifts before school and take part in the friendly but spirited competition among homerooms," said Catherine Alaimo, National Honors Society president. 
Xavier students love the feeling of helping others who are in need and are always looking for ways to give back to the community. 
"As a Catholic school, we pride ourselves in helping others, and it is one of the best traditions in the Xavier community. It helps bring everyone at Xavier closer together and most importantly, it helps many families put food on their tables," said junior Lily Foster, NHS member and canned food drive volunteer. 
Xavier also has "Can Your Skirt" days on Wednesdays in the fall as a way to help Xavier students donate more cans. Students are able to wear sweats or jeans to school if they bring in $5 or 10 cans, ultimately encouraging them to give more. 
Teacher Zach Carlson says that one of his favorite parts about the food drive is the "Can Your Skirt" days because he can wear his jeans to school. He also loves "sweeping the competition" and beating the other homeroom classes in the homeroom competition for the most canned food donated.
"The incentive of being able to wear sweats gives people a reason to donate, and the people who donate get to wear sweats and know they are helping people while doing so," said Foster.
The number of people who donate help Xavier reach its goal of raising a large amount of cans to bring to St. Vincent de Paul. This is only possible due to the hearts of Xavier students.
Metzger said, "Every year the drive gets bigger.  We have already exceeded last year's total and we still have a week left.  It is amazing!"
The St. Vincent de Paul food drive helps unite everyone, from the people who donate to the people receiving the food.