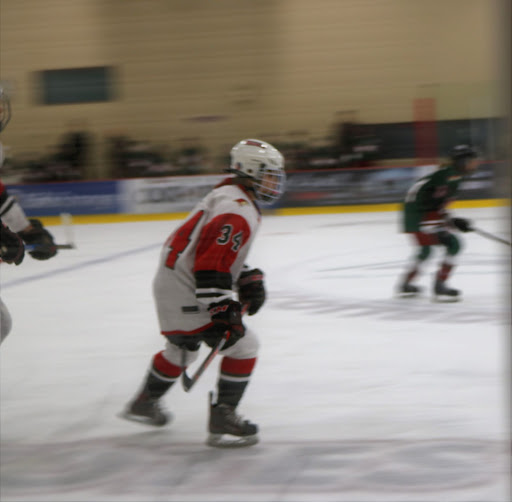 There are many teams to choose to be a part of at Xavier, from volleyball to softball, so it is only natural for anyone with a spark of interest in a sport to go and try out for a team. That was the case for senior Marissa White when she decided to try out for the Brophy College Prep hockey team.
At the beginning of the school year, during the daily morning announcements, Sister Lynn Winsor, Xavier's vice-principal for activities/athletics, announced that Brophy had openings on the hockey team for anyone interested in trying out.
"Hockey is a taxing sport and for her [White] to go out and try out shows she is courageous and has lots of self-confidence," said Winsor.
 Upon hearing about the openings on the Brophy hockey team, White was enthralled, so she contacted Winsor for more information. 
"I just wanted to try out something new and be involved, and since Xavier doesn't have a hockey team I thought I could get involved with Brophy,"  White said.
Not long after, White was asked to become a Bronco on Brophy's JV hockey team and gained one of the team's forward positions, with equal playing time as the rest of her teammates in games. 
Two months into the 2021-2022 regular season, White has contributed to Brophy's 6-2 record with her stats of ten games played, one assist and one point.
White describes her experience on the hockey team as fun and enjoys being a part of the team despite being the only girl. Before White joined the Brophy hockey team she had been playing hockey for about ten months and had ten years of figure skating experience under her belt, which made her transition to hockey easy.
According to Brophy's JV hockey team coach, Ryan Ricci, White is the first girl to be on the Brophy hockey team since 2014. 
Ricci says that having White on the team has sparked the interest of more girls and he hopes to have more girls on the team in the future. "As long as we can expand the game and keep it growing the better," said Ricci.
White's experience shows that one person putting themselves out there and trying something new can inspire others to do the same. To show support for Xavier's Gator, there is an upcoming game on November 20 at Ice Den Scottsdale.