Sacrament initiation through Xavier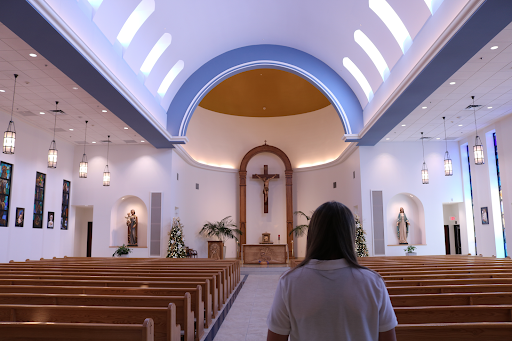 This school year four Xavier students will be completing their sacraments of initiation which are baptism, reconciliation, communion, and confirmation with the help of Xavier's campus ministry. 
Last year several seniors from the class of 2021 wanted to complete the sacraments before they went onto college. 
After getting approval from the bishop and the diocese, the four girls were able to move forward and complete their sacraments.     
Brianne Sanford, the assistant for Xavier's campus ministry, spoke of last year's sacrament initiation and said, "this set off a ripple effect in the other Catholic high schools." 
Now other Catholic high schools who have students that desire to receive their sacraments are moving forward to join the Church at their schools.
The schools do have approval for the students to receive their sacraments this year and will later hear of an official program moving forward for students to continue joining the Church through their schools. 
Sanford thinks a program would be extremely helpful for students. Even the opportunity that the girls get to meet now as they prepare for their sacraments. She is very inspired and moved by the girls' desire to know God, have a relationship with Him and join the Catholic Church.
Although there are only four girls completing their sacraments, Kali Riddell,Tatum Goforth, Lauren Carpita, Courtney Harris and Gisselle Esparza, a fifth student, Madelyne Sanchez, has been attending their meetings at lunch on Monday's to learn more about the sacraments she received. 
Riddell, Goforth, Carpita, Harris and Esparza have each chosen themselves, that they want to join the Catholic Church and have a strong desire to complete their sacraments. 
The weekly meetings allow the girls to talk and to get to know each other. During meetings the girls discuss their relationships with God, their desires to know him and how they see God in their daily lives.
The girls continue to make connections between their readings and with each other's experiences.   
"It is beautiful that the girls have such a great desire to know God," Sanford said. "I am so honored to experience and be a part of their journey."