Part 2 of 3: Self-reflection prioritizes mental health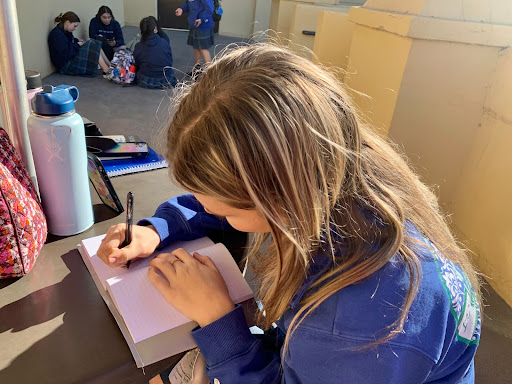 This year, Xavier's administration has decided to conduct in-person learning without any virtual learning. This decision will impact all students as the past year-and-a-half has been primarily virtual or hybrid learning. With this decision, many students will need to make some adjustments.
In Julia Bonilla's recent XPress article, "Prioritizing mental health creates a healthier student lifestyle," she discusses the importance of prioritizing mental health, but one may wonder how exactly to begin. 
Fortunately, Xavier prioritizes the mental health of students when it comes to decision-making. Upon returning to school for the 2021-2022 year, students were reintroduced to a fully in-person learning environment. 
This decision was made based on many factors, including how different learning environments impact students and their mental health. 
Many students struggled with their mental health during online learning, finding the online learning environment very easily distracting and isolating. Xavier recognized how online learning often came at the expense of students' mental health, hence their decision to return to in-person learning for the 2021-2022 school year. 
Now, students have been able to return to engaging classroom settings, rekindle friendships and become even more involved in sports and activities. Thanks to in-person learning, students can maintain their studies, friendships and involvement. However, this doesn't come without stress. 
Bonilla noted that students are busier than ever with hectic schedules and challenging coursework, leaving mental health to fall in students' priority lists. Unfortunately, depreciating the importance of mental health can only have negative implications. 
According to the National Institutes of Health, nearly one in three teenagers will experience an anxiety disorder before they turn 18 years old. Rates of depression, anxiety and other mental illnesses continue to rise alongside society's demands for achievement. 
To better combat these struggles, it is essential for students to incorporate methods for coping with the mental and physical demands of day-to-day high school experiences.
Olivia Long, Xavier's AP Psychology teacher, said, "If you can pause and reflect – hopefully with a little bit of compassion and without judgment – on what you're feeling and then name it, you're less likely to feel overwhelmed with anxiety or depression."
Self-reflection is a powerful tool that can be used to improve mental health. Studies have found that daily self-reflection provides a variety of benefits, including strong relationships and connections, proficient social skills and high self-esteem.
Cara Gillem, Xavier's nurse, believes that if students can deeply self-reflect and determine what is bothering them, they can find satisfaction in themselves and avoid comparing themselves to others. 
There are many techniques for incorporating self-reflection into a daily routine. From journaling to meditation, the opportunities are endless. Many Xavier staff and students have utilized these reflection techniques to improve their emotional well-beings.
Freshman Stella Chamoff '25 has found self-reflection exercises to ground her and determine origins of her stress. "I look at my past week and list good, bad, easy and hard things. Then, I think about how I could improve the bad and hard things," said Chamoff.
Kathleen MacLeod-Ryan, behavioral health and licensed clinical counselor, uses self-reflective questions, such as "what could I do differently?" or "where would I have a re-do?" She says, "It's a nice way to tie up loose ends at the end of the day."
Long encourages students to incorporate gratitude into their reflections, using a technique from "The Happiness Lab" podcast by Dr. Laurie Santos which revolves around three points of gratitude: something, someone and something about yourself. 
It is important to avoid the traps of insincere self-reflection. MacLeod-Ryan believes that self-reflection is "really important but also really hard." She encourages students to be open and honest with their self-reflections in order to truly reap the benefits of the exercise.
"Here at Xavier, I come across a lot of girls who are hard on themselves," Kathleen Gannon, director of counseling and counseling department chair, said, "but I just think this environment gives students the opportunity to shine and be strong. I think there are lots of opportunities to be self-reflective if they take advantage of them."
By taking a few moments to engage in self-reflection techniques, students may better exercise self-control and awareness, leading to improved mental health and greater enjoyment of day-to-day experiences.