Xavier Gator crew rows its way through San Diego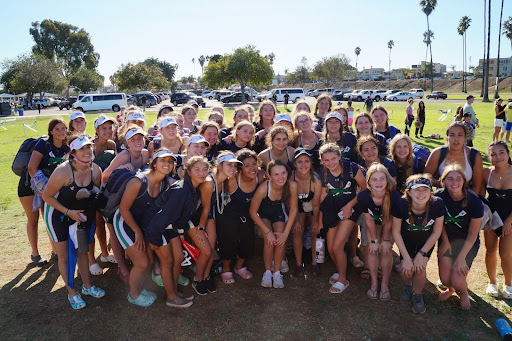 Xavier's crew team took on the San Diego Fall Classic Regatta, representing the school in California on Mission Bay over the weekend on November 14, 2021. 
On Friday the team loaded its boats onto the trailer, and on Saturday it was up before the sun on Xavier's campus to board the bus. 
The team prepared for weeks leading up to this regatta. Novice rower Natalie Weatherwax '25 said, "We would practice by rowing a 6k on Tempe Town Lake almost every day during the weeks before the regatta. We also did 5k rowing machine tests and land workouts." 
Varsity co-team captain Kate Seeley '22 said, "We focused on both technique and strength and each boat worked together to make themselves stronger!"
The team had rigorous training in order to bring its best to the regatta.
Co-coach Mariah Sullivan '12 said, "The rowers and coxswains spent more time on the water in their specific line-ups to prepare for the race."
Head Coach Kenna Douds '14 described the importance of working in a synchronized manner for the best results, saying, "They individually have to work while being in a boat of 2, 4, or 8 and then come together and work in unison. You must work entirely in tune with the person in front of you." 
When the team arrived in California it re-rigged its  boats and got out on the water to get used to the race course. 
Sunday was a full day of competing, so the team attended Mass on Saturday evening at the University of San Diego. 
Mass had a positive impact on many of the rowers and coxswains by providing an hour of downtime to be grateful for their trip and have some time with God. 
Weatherwax said, "I think that the Mass before the regatta really helped us come together as a team. By taking some time out of our busy weekend, we were able to remember that we are all so blessed to be participating in such a fun sport. "
"It put us in a good mindset and, ironically, it made everyone on the team very excited for Sunday. Immediately after the Mass, we were all excited and happy," said varsity rower, Bella Adams '24.  
Coxswains worked hard to memorize the race course and their boat lineups. They also provide spirit-uppers, which are little gifts, for their boats to go along with pep talks and game plans when the team met on Saturday night. 
Varsity members were matched up with one or two Novice members to form Big Sister, Little Sister duos and groups. 
"I love having a Little Sister. Neva (Nemanic) '24 is super sweet and I'm glad I can be there for her if she has any questions about anything crew or school-related. I have fun getting her little spirit-uppers for the bus ride," Seeley said. 
Team members gained valuable memories and achievements from the regatta. On rowing in a doubles race, Seeley said, "My favorite memory was rowing up to the start line with Tatum (Gallaspy) '23, and all the boats around us wishing all of us luck."
Sullivan said, "My favorite memory is watching the novice 4+ team crossing the finish line. I was cheering so loudly for them and they were rowing so hard. Even though I didn't work with them directly since I'm not the novice coach, I was so proud of them."
"The best part of the Regatta is the excitement of the athletes and camaraderie of getting all the boats out in a timely manner and people running to get oars for their teammates. I love seeing this team work together," Douds said.
Even though Xavier left the regatta without any of its boats placing, the team was able to form strong bonds with teammates. 
"My biggest achievement from the regatta was Tatum and I beating a 4+ to the finish line after pushing as hard as we could for 5000m," said Seeley. 
The Xavier Prep crew team will train even harder for its next regatta, and it hopes to bring home some medals. 
Seeley's excitement for the Spring 2022 season is evident when she says, "It's been so awesome seeing everyone get so excited for each regatta and I cannot wait to continue into the spring season!"
The 8-person boats will have the spotlight on them as the crew season approaches. 
"[We're] hopeful to get top 3 in an 8 in either novice or varsity…there was a fire that was lit due to this race. I look forward to seeing that spark show in the next race," Douds said. 
On Sunday the team ended its weekend by de-rigging boats and getting on the bus, with a stop at In-n-Out for dinner. 
"It makes me so happy when they start to love it as much as I do. I think my favorite part about coaching is being able to help athletes learn more about nutrition and exercise science. While it helps them perform better now, these are also such important lessons that they'll use later in life," Sullivan said.