Xavier's leadership triumvirate receives Inés Pascual Award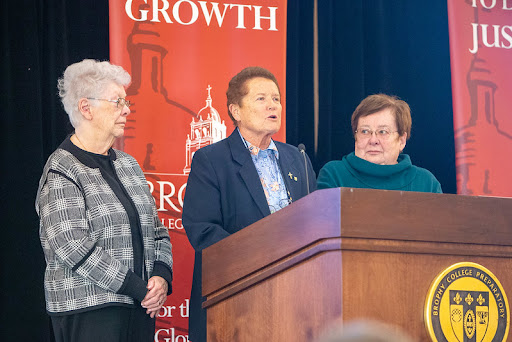 On Saturday, February 5, Sister Joan Fitzgerald, Sister Joan Nuckols and Sister Lynn Winsor were presented with Brophy College Preparatory's esteemed Inés Pascual Award for Generous Service at Brophy's annual Mother-Son Communion Breakfast.
Every year, the Inés Pascual award recognizes a woman who embodies the spirit and the dedication of Pascual herself. 
Inés Pascual, a Spanish noblewoman, is a prominent figure in the Catholic Church. She is highly regarded for her service to St. Ignatius, particularly in the founding of the Jesuits. Through her support of Ignatius's mission in Christ, Pascual perfectly embodies the Catholic values of fortitude and, most importantly, charity.  
"It's part of our history," said Adria Renke, Brophy's President, "We want to celebrate her life as a servant leader."
The award's honoree celebrates a woman who emulates "the generous ways she works to animate the values and ideals…inherited from St. Ignatius," as explained on Brophy's website. 
This year, Brophy chose to honor Fitzgerald, Nuckols and Winsor in recognition of their efforts of bettering both the Xavier and Brophy communities through dedication to service and the faith.
Renke said, "They are leaders and they are servants. They put their hand out and try to find ways to support their apostolate, and they do it. They were an obvious choice."
Similar to St. Ignatius and Pascual, Brophy and Xavier have held a tight-knit relationship for many years, as described in the Mother-Son Communion Breakfast pamphlet: "Just as Inés Pascual played a significant role in the life of Ignatius, so has our sister school, Xavier, been an important part of Brophy's academic and student life."
"We were honored to receive this award not only because of our association with Brophy but our association with the Jesuits," said Fitzgerald, president of Xavier. 
The BVM connection with the Jesuits can be traced back to approximately 1833 when four sisters first arrived in America to teach poor children in Philadelphia. After losing their money while exiting the ship from Ireland, a Jesuit on the boat offered his help to the women, sparking a strong relationship between the two groups. This would soon flourish in the following years with a relationship between Brophy and Xavier.
"We have something in the Jesuit language called 'cura personalis,' care of the person, and they [the sisters] did it in spades when I needed them most," said Renke.
Renke and the sisters have held a close personal relationship for many years. Renke mentioned the sisters even threw her a baby shower.
"When you look at Sister Joan and Sister Lynn and Sister Joanie specifically, they have characteristics that are unique," said Renke. "They're daring, they're independent, they're visionaries; not much stops them."
Winsor, vice principal of activities and athletic director, said, "It was an honor to receive the award. We loved the fact that they recognized the importance of the sisters in regards to the parish and Brophy too."
Throughout her time at Xavier, Winsor has accomplished incredible feats, in both leadership and athletics. Renke describes Winsor as "incomparable," with a special gift of motivating and inspiring young girls in their academic and athletic endeavors. 
Sister Joanie Nuckols, principal, began her journey at Xavier in the social studies classroom until she took on the role of principal. Renke said, "She has a special gift for students and it's because she loves history. She makes it interesting and vital. That's her special gift, besides being a great administrator."
"Sister Joan…I'm speechless in the descriptor," said Renke. Fitzgerald led Xavier as principal from 1974 until she was named as the school's first president in 2016. She has been a strong pioneer in Catholic education, earning a coveted spot on the Phoenix Business Journal's list of Most Admired Leaders in 2020. "She is an incredible administrator and knows the vision of her apostolate, her school and has a firm conviction about the way young women should be treated," Renke adds. 
Both Xavier and Brophy students have experienced the trio's remarkable commitment to excellence. 
Bella Cucchetti '24 said, "The sisters do a really great job at making the campus and community very welcoming and friendly. However, they know when to get serious and maintain the students' respect."
Many Brophy students have cherished the Brophy-Xavier connection. Brophy student Guillermo Medina Hoyos '22 said, "I feel that people always forget about the opportunity that is present through the connection of Brophy and Xavier. The chances for shared clubs and activities always offer a different slice of life through different experiences and viewpoints. In my experience, I never thought I would have done theater in my life but through the chances to be in productions at Xavier I found a new passion I love….Through this connection, I learned skills and talents I never knew I had."
Xavier's sisters hope to continue to strengthen their bond with Brophy. "We thank them for all that we've done together and we hope that the relationship will continue," said Winsor.