Xavier hosts a successful Girls Have IT Day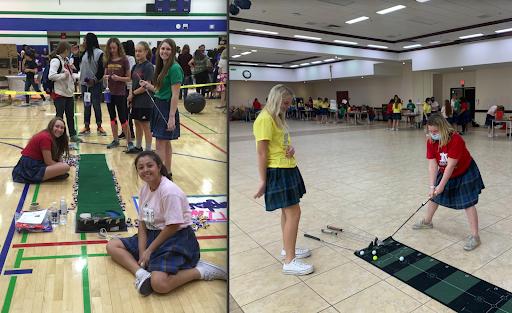 Middle and high school girls gathered for Girls Have Informational Technology Day (GHITD), a day designed to "engage, inspire and excite middle-school girls in science technology, engineering and math," said Catherine Wyman, a former GHITD Moderator. 
Activities of the day included Xavier alumnae speakers, a raffle and fun experiments. The event run by Xavier students was open to all.
GHITD began in 2009 when Francis Ward, a former GHITD moderator, found that young students' interest in STEM had diminished by the time they went to high school. Ward also found that on average only 20 percent of women complete their bachelor's degree in computer science.
"The whole purpose of the event is to get them more into STEM because of the lack of women in the field," said Nina Rawal, co-chair of the GHITD Committee.
Finding that girls thrive in near-peer mentoring environments, Ward had Xavier girls mentor younger students. "Close-peer mentoring is the reason why the students are teaching the middle schoolers," said Sarah Schimpp, a GHITD moderator and science teacher.
After having GHITD annually for ten years, it was moved to Zoom in 2020. "Not only did we serve more girls online, but we served young students from all over the country," said Wyman.
After having the event online last year due to the pandemic, a smaller group was expected for this year's in-person GHITD. At the event this year, about 35 middle school girls attended.
The event began with a panel discussion by two Xavier alumnae who started their professions in the STEM field. Ellie Carlos, who works for Dreamworks and Reddit speaker Casey Klecan had a Q & A session in the Performing Arts Center. 
Many hands-on activities followed, such as an egg-drop experiment, fizzing lemonade, elephant toothpaste and more. Approximately 45 booths had different activities for the middle schoolers to participate in.
The GHITD Committee and its moderators were responsible for organizing the event. Major Funding comes from the Computer Science Teachers Association Grant, which the committee applies for yearly. BootUp is another source of funding, which "empowers students and teachers in computer science in underrepresented communities," said Sofia Najaraj, co-chair of the GHITD Committee. As another source of funding, Girls Have IT Camp was held in the summer.