Horseback riding: A sport like no other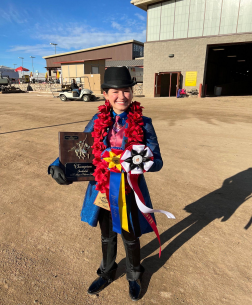 When one thinks of sports in high school, he or she thinks of volleyball, basketball, football, soccer and, consequently, the stereotypical athletes and "jocks" seen in movies. Well, if you learned that there is a sport that is just as competitive as football, takes thrice as many legs as singles tennis, takes the same amount of grit as soccer, leaves no room for fear and can last you a lifetime, would you believe it? 
Horseback riding has truly taken a role in Xavier athletics this year, starting with freshman Simone Zurawski. 
In February of 2022, Zurawski competed in the Arabian Horse Show. This event is massive, hosting over 300,000 attendants every year at WestWorld of Scottsdale. This is the biggest Arabian horse show in the world and it is right in Arizona's backyard.
Simone competed and won two Champion titles in the Arabian English Country Pleasure for her age group on her horse, JTC Thunderstruck. She was also awarded with a special red, black, and white ribbon to signify her unanimous win amongst all judges. 
As a result of Simone's presence in the horse world, she received a bid to the Junior National Championships held in Tulsa, Oklahoma in July of 2022. 
Horseback riding is incredibly time-consuming. Between taking care of an animal, physical training, lessons and one's academics, horseback riding takes real dedication and commitment.
Gator senior and accomplished rider Ella Burbach says, "Horseback riding is a very physically demanding sport, which most people don't realize. In order to ride you have to apply certain degrees of pressure with your lower calf, heel, arms, upper calf, etc., which generally goes unnoticed to the untrained eye. It takes a lot of practice and muscle building to become a great rider." 
Zurawski says, "Horseback riding is different from most sports because you can't talk with your horse through words; it is a set of actions and commands that you can use to communicate with him, as well as body language. Horseback riding is all about finding the groove and connection between rider and horse, then doing your best from there. When you do that, there is no better feeling, win or not." 
Another accomplished Xavier rider is Kenzie Riddell '20. Riddell competed heavily throughout her time at Xavier and won the IEA Varsity Open National Championships during her high school career. Now Riddell rides for the equestrian team at the University of Denver. 
Also commenting on the physical requirements of the sport, Riddell says, "The rider must be fit. The horse must be fit. Riding itself takes physical exertion that, if done correctly, goes unnoticed. When people claim that riding isn't a sport, they haven't done it themselves." 
Burbach adds, "The obvious difference between horseback riding and other sports is the fact that it involves a live animal. This key difference is what makes it stand out against all other sports. 
"Riders and owners have to take care of their horses, which requires a significant time commitment outside of the actual sport. Horseback riding not only requires a skill for the sport, but also an extreme dedication outside of riding and showing. This time commitment teaches horseback riders so many life lessons that other sports don't offer." 
Additionally, horses can have a positive affect on mental health. The loyalty and friendship gained through this special relationship, for instance, helped Riddell through high school. 
Zurawski says, "Horses have always given me an opportunity to be calm and centered, and to focus on what I am doing. Being able to escape by visiting my horses or by riding makes my week so much easier. My friends have nicknamed me "Horse Girl". They always know where I am if I'm not at school or doing homework. And it [riding] has definitely been a motivator to work hard and do well, because bad grades equals no horse time." 
Riddell says, "Horses did more for me in high school than I could ever give them credit for. They kept me going through thick and thin. I was driven academically because I was determined to attend every horse show and spend time in the barn. Horses gave me a reason to keep going when high school was hard."