Girls' flag football: The next big high school sport?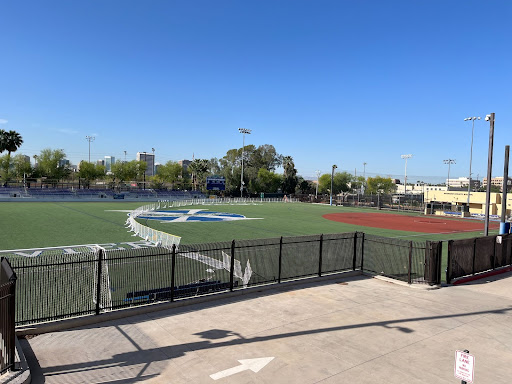 Football is a defining American sport. Each year millions of households watch the Superbowl, and Friday night lights are often viewed as an integral part of the high school experience. While boys' football could arguably be the most popular high school sport, in most states girls have little-to-no chances to play at their high schools. Opportunities for girls in this sport are growing, though, and in Arizona, girls' flag football is growing quickly.
Sister Lynn Winsor, vice principal of Xavier's activities/athletics, is anticipating flag football's growth. "I do a lot of reading, athletic books, and I know what is going on nationally because I am very involved in the National Athletic Administrators Association, and in some states, flag football is being looked at as a potential sport," Winsor said.
According to the National Federation of State High School Associations, flag football is "currently sponsored by NFHS member associations in five states: Alabama (currently no state championship), Alaska (no state championship), Georgia, Florida and Nevada."
For Arizona to make this list, it will first have to gain recognition from the Arizona Interscholastic Association (AIA). Before a sport gains full recognition, it first gains emerging sport status. Joe Paddock, the assistant executive director of the AIA, said the "Most usual way [to become an emerging sport] is for a conference to bring the idea forward and then once we have at least half of a conference's interest, then the board would start the sport as an emerging sport."
Once the equivalent of a full conference shows interest, then the sport can be fully-sanctioned.
While not an official AIA sport, schools can still have teams and compete against other local high schools, much like the current state of lacrosse.
Currently, schools in the Chandler Unified School District and at Mountain Pointe High School have girls' flag football teams and they play against each other. 
Because of these teams and emerging popularity, Winsor said, "I'm anticipating that flag football might be the next sport to come in for high school girls."
This anticipation led to plans to add flag football lines to Xavier's sports field when it will be redone this summer. These will be in addition to the softball, soccer and lacrosse lines. Winsor said, "Looking at the future, I think, maybe this is something we can get involved in interscholastic-wise. So, we're going to put the lines in, in anticipation that this will be a PE class for sure and maybe become an AIA sport."
Flag football has been a unit in PE for many years. Barb Chura, PE department chair, teacher and head soccer coach, and Kristen Jones, PE teacher and head frosh volleyball coach,  outlined many reasons why flag football is a beneficial unit in PE. The main benefit is physical exercise, but there are other benefits as well.
PE students gain a better understanding of the game, which can be useful socially because it is such a popular sport nationally. Chura gave the example that most people watch the Superbowl every year, and if you understand football it is much more enjoyable to watch and talk about. The same understanding is vital if attending high school games, Jones added.
Knowing how to play is also beneficial because of its popularity recreationally. Whether your friends started a pick-up game or you're tossing a football back and forth with your family at Thanksgiving, these may be situations where if you did not know how to play "you never would have done it, but once you learn how to, you're more confident," said Sophia Gliatto, a student-teacher.
Gliatto also commented on how playing sports in PE, especially flag football, is special at an all-girls' school, saying, "I admire how girls are able to take charge and not just be more towards the sidelines." 
With the popularity girls' flag football is gaining, it might just be the next official high school sport.