Prom: Is it really the night of nights?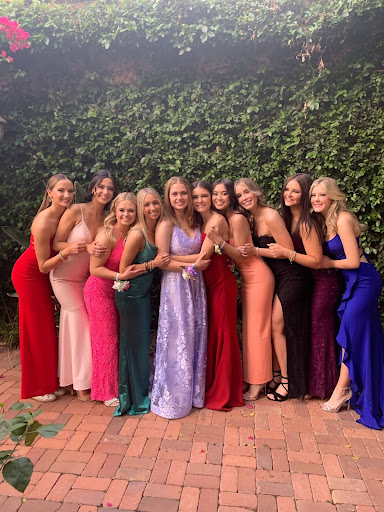 Picture this: It's March, and all of a sudden you're seeing creative promposals all over social media. You hear all the buzz of "What style of dress should I get?" and "Show me a picture of yours!" This year, prom season came in full swing before we knew it. 
Since there has not been an official Xavier and Brophy prom since 2019, expectations were generally pretty high for this one. You grow up hearing about how important this night is, so it is only natural that you would want your experience to live up to that. 
From dates to what group you will be taking pictures with, there is heavy planning involved to make prom a memorable night. It may have been over-the-top, now that I'm looking back, but I can definitely say it was worth it. 
 I thought the theme of "Prom Voyage 2022" was creative, and I loved the way they set up the entrance to mimic the entrance of a cruise ship. I applaud Brophy for their dedication to setting up such a lively environment. Xavier Junior Taylor Serrano said they made "Brophy's campus feel like an immersive venue, and not a school gym."
Whether it was moshing on the dance floor, playing games at the tables or singing at the karaoke station, there really was a lot to do at this event. I personally spent most of my time on the dance floor! 
In addition to my immediate friends, I had so much fun seeing everybody I know all dressed up. Whether it was the juniors on my team, the kids I went to middle school with, or the girls who sit next to me in classes, it was definitely a highlight to be able see them and share the excitement of such a big night.
Honestly, I think school dances have always been a matter of what you make of them. It felt for the most part that everyone had that "prom night buzz" all night, so as a whole the mood was very uplifting. In the words of Taylor Serrano, "There was never a dull moment!"
Of course, who could forget the crowning of prom royalty. After hearing the nominations, my friends and I cheered extra loud when we heard the name of the selected prom queen. Senior Hannah Ulisch looked absolutely stunning in her tiara, and she felt "truly blessed and so excited to have been a part of this amazing experience."
Our prom king, senior Carty Shoen, had his grand moment onstage and ended it with a memorable quote: "Everybody wanted to know what I would do if I didn't win… I guess we'll never know." Seeing these two awesome people get the recognition they deserve was so much fun to watch.
So, here's the final question: Is prom overhyped? My final answer is most definitely no. 
Honestly, I enjoyed the frantic dress shopping trips, appointment bookings and finding out you're apparently supposed to keep a boutonniere in the fridge. I think all of these little things just add that much more to the overall experience. 
Whether you went with a date or with a few friends, I firmly believe prom can be a memorable night for everyone. After seeing everyone having the best time on Saturday, I can confidently call this the night of nights.