Xavier faculty pursues summer vacation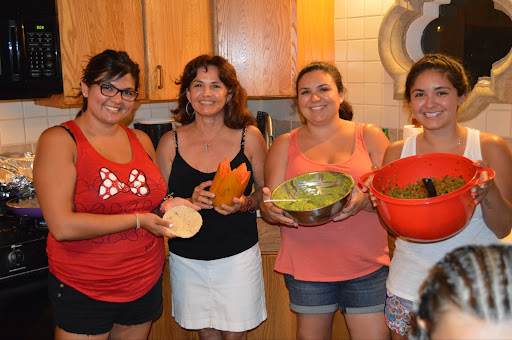 Summer vacation is a time for visiting family and friends, relaxing, keeping up with traditions and enjoying a break from school.
With the end of the school year approaching, Xavier faculty plans their summer activities.
Guidance counselor Alexis Quintero is traveling to San Carlos, Mexico for three weeks with her family. 
This tradition started many years ago, when Quintero's grandparents were dating. Her family stays in condos and pitches tents on the beach, where they spend most of their time together.
This year, the trip is even more special since it will be her baby's first time seeing the ocean. She has seen her nieces and nephews all go into the ocean for the first time when they were little, and now it is her baby son's turn to experience this.
"Being able to share my family's tradition with him makes me really excited to show him my favorite place in the world," said Quintero.
Dance teacher Kelly Scovel is going on a long-awaited Royal Caribbean cruise with her family this summer after rescheduling it three times due to Covid. She is traveling on the Symphony of the Seas, which is the second largest cruise ship in the world.
In a year full of busy schedules that leave little time for family bonding, Scovel said "summer is just a time to be together."
While some teachers are going out of the country, some are staying here in the States.
Ceramics teacher Zachary Carlson is traveling to see his extended family in Minnesota for his cousin's wedding. He has made it a tradition to travel there each year, but this is the first time in approximately five years that his whole family will be together.
His family traditionally engages in water sports like tubing, waterskiing and wakeboarding, but he said he is particularly skilled at wakeboarding. 
English teacher Alison Mead is taking a cruise to Alaska with her spouse and her four sisters and their spouses. This will not only be her first time visiting Alaska, but also will be her first-ever cruise.
Mead said she plans on "whale watching, fishing, hiking, checking out the glaciers and eating seafood." She said she looks forward to eating Alaskan king crab since it is "delicious."
Gina Nuñez, Xavier history teacher, is staying in Ventura, California at the beach house that has been in her family since 1969. For the past five years, she has been spending her time on vacation in California to learn more about her family's history and to trace some of her relatives.
Nuñez and her family will be tracking her cousin's son, who has a degree in marine biology, on his research ship.
Every day at sunset, she and her family go out on the beach to see the sunset and to toast to those who have passed in their family.