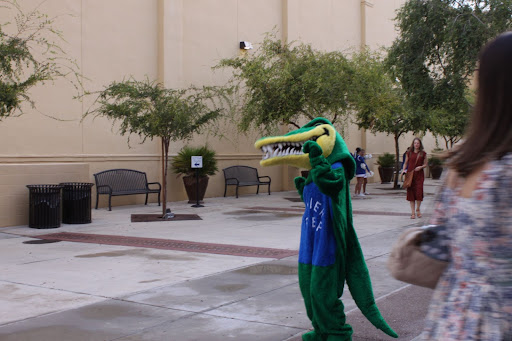 Xavier alumni and family congregated in Founder's Hall on a cloudy September 22 morning to rally support for The Xavier Fund.
The event, better known as the X-Breakfast, is celebrated for raising over 5 million dollars in 15 years thanks to the support of generous donors.
The event, chaired by Kevin and Brooke Kopp, featured two student performances: the National Anthem by the Honor Choir and a "Brown Eyed Girl" parody by the Student Council Executive Board. Guests were also warmly greeted by Spiritline and the Student Ambassadors club. 
"We've raised 5 million dollars from this one event alone and it used to go towards our capital campaign, which pays off the buildings, but now that the campaign is over, the money goes to scholarships," said director of Legacy Giving Curtis Bruggman. 
"The Xavier Fund focuses on the annual gifts of community members wanting to make a lasting impact. It's driven by you (the community). We want to know what's important to you," said Bruggman.
Xavier Alumni Christina Beloud '87 and Jamie Boggs '95 were invited as guest speakers. Both speakers reflected on their lives after graduating, leaving behind their plaid skirts for successful careers in the United States Secret Service and Grand Canyon University athletics.
After the breakfast, both speakers shared their speeches with the Xavier student body which was followed by a Q and A session. "The Q and A session is definitely everyone's favorite time of the assembly because the speeches always arouse questions in the curious minds of Xavier girls, so we thrive during this time," said Executive Board president Katie Carlson '23.    
"The speakers were influential given that they were both females who had great careers," said freshman Lily Gatt. 
Over 45% of Xavier students receive financial aid through the Xavier Fund. 
"All girls at Xavier are enabled to be equal through the Xavier Fund and it also gives the girls the confidence to succeed in the classroom," said Carlson. 
Xavier students enjoyed a late start before attending the assembly in the late morning. 
"I always want to improve. One of our ladies in the finance department had attended the breakfast and she said the only thing we missed today was the creamers for the coffee," said Bruggman.