Xavier welcomes student transfers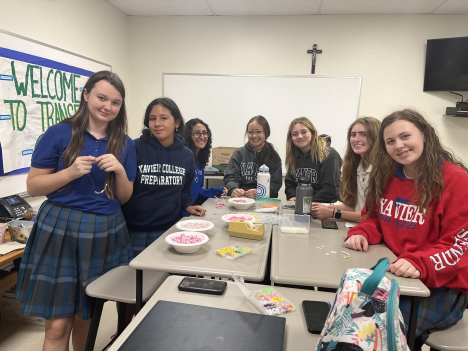 As hard as it seems to be the "new kid" at a completely new school, Xavier provides all new students with accessibilities to fit right into the school.
The Student Transfer Club is the only club specifically dedicated to transfer students, which is why being a part of this group is suggested. Any past and current transfers are warmly welcomed to come to meetings and join in on all the fun activities. 
The president of this club, Chloe Buckner, shares that "the overall idea of the club is to build friendships that help people adjust to the new environment." Having transferred schools a total of six times, she knows what it is like to be new and wants all in that position to feel warmly welcomed. 
Club meetings are held one to two times a month during lunch hours. Food and snacks are provided to all who wish to show up.
Catherine Emmerling, one of the club moderators, invites those who are interested in making friends to partake in group exercises. She even offers significant events in order to be a part of this experience. 
Emmerling states that there are many advantages to joining the club such as meeting new people, sharing experiences that relate to one another and helping new members become more involved with the school. 
Outside of the transfer club, other past transfers have found resources that made the adjustment to Xavier more comfortable. The school provides over 75 clubs and activities that help familiarize newcomers with their classmates, teachers and the campus. 
Xavier also provides every student with a guidance counselor, who is available to help in any way possible. The counselors are available to help develop plans for colleges and talk about academic or social-related issues. 
Junior Olivia Robinson, a previous transfer student, said that the assumptions she had had about Xavier were very accurate. She said that she "had expected for Xavier to be academically rigorous and challenging, as well as an intensely religious school." 
Robinson added that the transfer club was not the only thing that helped her meet her group of friends, but participating in sports also helped. Sports helps one to communicate, with teammates and eventually with classmates. 
Xavier also provides student transfers the opportunity to grow in faith, unlike some of the other neighboring schools. With a variety of religion classes, Xavier has many choices for student transfers to learn more about God and theology. 
Many student transfers agree that Xavier has the most opportunities for inclusion and has something for everyone.