Xavier meets new chaplain, Father Harold Escarcega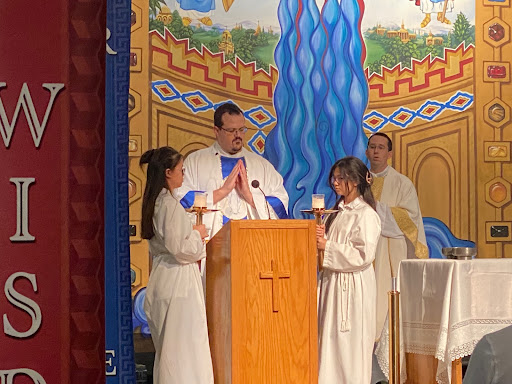 Father Harold Escarcega was welcomed as Xavier College Preparatory's new chaplain in late June. He enters the Xavier community eager to serve and help others to grow in their faith, and has been described as someone who "wants to help people to know Jesus." Xavier's previous chaplain, Father Nathaniel Glenn, was given a new assignment in Sedona, Arizona. 
Bishop Olmsted saw Escarcega as a good fit as Xavier's new chaplain. Escarcega was also assigned, by the bishop, at St. Simon and Jude. Becoming Xavier's chaplain was a surprise for Escarcega, but Xavier invited him with open arms.
Just as Xavier is welcoming Escarcega, he is also starting his new journey of priesthood. This year is Escarcega's first year of being a priest. 
Brianne Sanford, Xavier's assistant campus minister, describes Escarcega as "super joyful." Sanford added, "He is holy, and loves God. He wants people to know Jesus." 
Geoffrey Stricklin, freshman and sophomore theology teacher at Xavier, explained how a relationship between students and their chaplain can bring them closer to Jesus. "In a sacramental way, the priest is like the presence of Jesus in our community," said Stricklin, "which is a powerful thing."
According to Sister Lynn Winsor, Xavier's vice principal for activities and athletics, Escarcega wants to build connections with the Xavier student body and faculty. Winsor shared an anecdote of when Escarcega asked for a Xavier hat, which showed Winsor his true desire to be a part of Xavier's community.
Escarcega is not only a friend to the Xavier campus but a "true-father figure." Stricklin said, "He represents fatherhood…a priest is a father, in the most amazing way; his whole life is given for God and for others, which shows generosity, and every father should be that generous."
Sanford said, "The thing that is really beautiful, especially at Xavier, is that it is very important for us to have a true-father figure."
"Father Harold is the perfect model for a school chaplain," said Winsor.Escarcega leads morning Masses on Mondays at 7:00 a.m. and afternoon Masses on Wednesdays at 12:00 p.m., which all students and faculty are invited to.