Genevieve George perseveres through hardships to place at state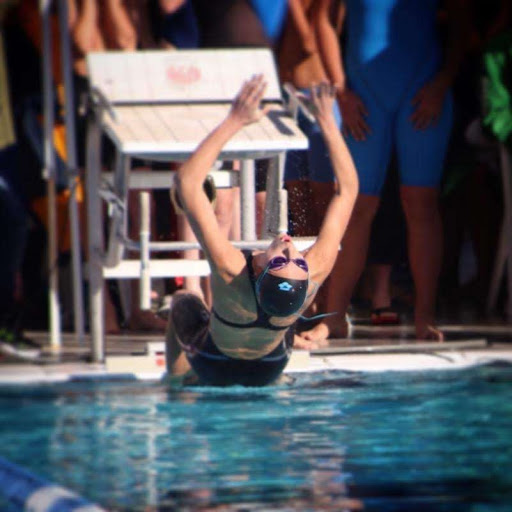 Vivian Amoia, Staff Writer and Best of Sno award-winning writer
December 1, 2022
Genevieve "Geni" George '25 is a sophomore at Xavier and is a member of the swim team. This year at the 2022 AIA Division 1 State Championship, George placed 6th in the Girls 100 Backstroke. However, last year, she had to focus on a different challenge, her health. 
"I got diagnosed about two and a half years ago when they started figuring out I would throw up after I ate and they didn't know why. Through that, they did lots of tests, and that's when they found MALS," George said. 
MALS, also known as Median Arcuate Ligament Syndrome, is a condition where the median arcuate ligament presses too tightly on the celiac artery. Compression of the artery cuts off blood supply to the stomach and liver. 
It took a year to find out that Geni had MALS. She had six procedures leading up to a mention of the syndrome, and two procedures after that specifically for MALS. 
Despite her condition, George has been swimming for approximately eight years. She even won Far West when she was 12 and state at the ages of 10 through 15. She wasn't going to let MALS stop her. 
"It's absolutely incredible what she does every day. Last year she was not able to compete at all. She was allowed to swim for maybe one-fourth of a practice. She was in and out of surgeries; they didn't know what was wrong with her. She had every reason to be scared and complain and I never saw either come from her," said Cassie Worth '23, George's teammate.
Last year, Geni had to swim with a feeding tube and was on a liquid diet. 
This year she had a stent placed in one of her arteries that helps with pain and eating. She has had the stent for the past three or four months. Although she still can't eat solid foods, this has allowed her to focus more on swimming and achieving her goals for the season. 
"We knew from day one this season that she would be at state. Her attitude and work ethic were awesome, and she qualified early in the season. That was exciting. But to actually see her at state, it was emotional," said David Smithers, Xavier College Prep assistant swim coach.
Although being an athlete with a chronic condition can be extremely challenging, George wasn't going to let it stop her from achieving her dreams and having a positive outlook. 
"Geni is the strongest kid I have known, mentally and physically, in my 27 years of coaching swimming. Physically, I mean [she] works hard and makes every practice count. Mentally, she went through a lot in the last couple of years. Yes, it was hard for her, but she didn't let hard win. She had a positive attitude along with a growing mindset and that helped her push through and make her goal of swimming competitively again," Smithers said. 
Not only was Geni focused on swimming for Xavier this year, but she has also started thinking about her swim career in the long run. 
"I want to swim in college for sure. Anywhere in California would be really cool because their swim schools are really good, or UNC [University of North Carolina] would be really fun to swim for," George said.