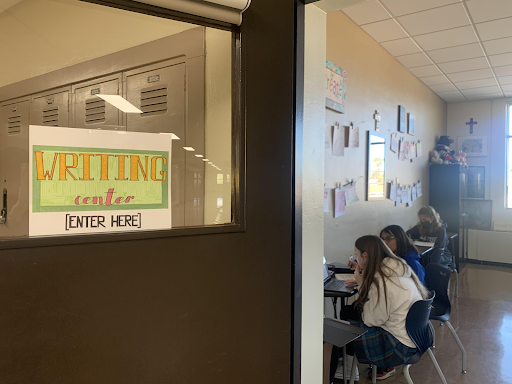 This past month, Fitzgerald Hall 206 has become the home to Xavier's first Writing Center, run by students in the National English Honors Society (NEHS) who have been trained by English teacher Kelly Hubbard. The Writing Center, which is currently still in the works and only available to two English classes, offers a space where students can bring in their own writings to be advised and edited by Xavier's honors society members.  
AP English IV teacher, and NEHS moderator, Hubbard said the students started their training in December and continued to work for five weeks before opening the center. 
In total, 25 students applied and 25 students were accepted into the training program. "They were all great, so we kept them all," Hubbard said.  
While this time around Hubbard led the training, she is confident that next year the juniors currently working with the program will be able to take on the coaching. 
"It's learning about how to help somebody with her writing without taking over her writing," Hubbard said. She emphasized that the students volunteering are there to encourage not only exceptional writing but also confidence in students' abilities. 
Something that was echoed by both Hubbard and Elizabeth Galbreath, fellow NEHS moderator and English teacher, was that the Writing Center is meant to feel more like going to an intelligent friend than a teacher. "It's more like a friend who helps you with what you yourself want to know or need help with," Hubbard said. 
Galbreath was especially hopeful that the program will help students feel more comfortable with asking for help. She hopes that the program will lead to many students experiencing major growth in their writings, something that was also expressed by Hubbard. 
Nina Rawal '23, NEHS President, felt that the program provides students with a "safe space" where they won't feel judged but will get the help they need. 
According to Hubbard, all students will be able to use the Writing Center in the future for any classes, not just English.
Galbreath added that the students helping with the center will also benefit, from their dedication, from their preparation for future job possibilities, but also from their own learning. "The best way to learn is to teach it yourself," Galbreath emphasized.
In regards to all students involved with the Writing Center Galbreath said, "It's a path to different things they love to do." She also hopes that younger students can find healthy role-models and leaders to look up to through those helping with the Writing Center. 
Both teachers expressed that the center is something they've always wanted to do after their experiences with similar programs in college. Galbreath said, "We thought this would be a perfect opportunity."
Hubbard is hopeful for the future of the program saying that in just a few weeks all students will be able to make appointments.