Xavier Spiritline takes home another state championship following Game Day competition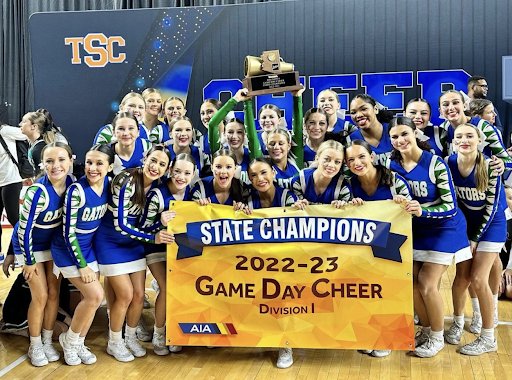 Vivian Amoia, Staff Writer and Best of SNO award-winning writer
February 2, 2023
On December 17, 2022, Xavier spiritline cheer won first place at the AIA Cheer Game Day State Championship. 
This win represents not only the cheer team but the entirety of spiritline and the whole school. 
"Game Day is primarily to show school spirit, as opposed to all the crazy tricks and tumbling and stunting. The main focus is to be the team with the most spirit, the most energy and the cleanest routine, something they would do at a game, hence the name 'Game Day'" said Monica Gaspar, Xavier's spiritline head coach. 
According to Gaspar, Game Day is a fairly new division and has only been around for eight years or so. This was Xavier's second year competing, and they were determined to win. 
"We had decided before we even stepped on the floor, before we went to that competition, we were going to win," said Lauren Carpita '23, Xavier's spiritline pom captain. 
The team's hard work, determination and intense practices allowed them to achieve their goals and bring home the win. 
"This win meant the absolute world and more to me and my team. We are so proud that we were able to bring another state trophy home to Xavier," said Jaya Vijungco '23, Xavier's spiritline cheer captain. 
Spiritline, separate from Gatorline (Xavier's non-competitive team), consists of two teams. On spiritline, there is a pom team and a cheer team. They both practice every morning, Monday-Thursday, before school and during first period. 
Although the two teams practice separately, they are very supportive of each other and consider both to be one big family. Working hard together allows the girls to grow in both self-confidence and sisterhood.
This band of sisters respects each other on a mutual level and they are constantly learning from each other emotionally and athletically, building confidence and trust along the way. 
"Being the cheer captain has helped me step up into being a confident leader. The team looks up to me and my co-captain, Lizzy Lamprey '23, so we both make sure to support them always and be their role models," said Vijungco. 
This band of sisters puts together dances for rallies and cheers at the Brophy football games, but a lot of what the student body sees is only a small part of what spiritline does. A majority of the team's practice is for competitions. 
The Gators' next big competition is Nationals, in Anaheim, California on February 24-26. They will be competing in all the divisions: Jazz, Pom, Game Day, Show Cheer, and All-girls Stunt. 
"Nationals is the last stretch of the season, which as a senior is bizarre. It's one of the hardest, but most rewarding parts of the season," says Carpita. 
Although being on spiritline is difficult and involves lots of training, the competitions come with lots of excitement and pride to be representing Xavier College Prep. 
"Nationals is one month away and we could not be more excited!" Vijungco says.