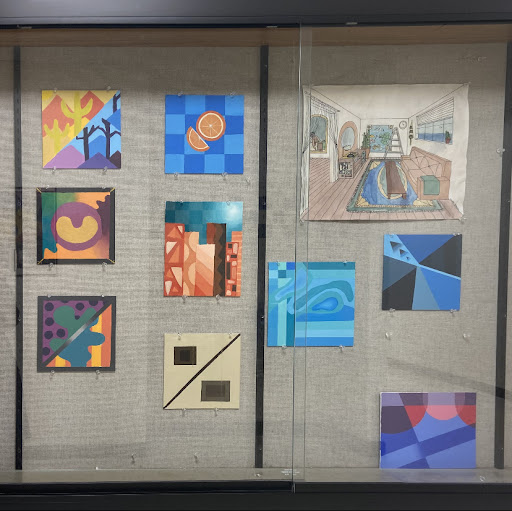 For many, art is a form of therapy. Art is a "friend" that people can turn to. For others, art is merely a pastime – a hobby. 
There are many different reasons why people create art, and art means something different to each person. Whatever that meaning may be, many would agree that although every artist draws inspiration and creates art for different reasons, there is a beauty and sense of therapy in the creation. 
It doesn't matter whether you paint large murals or doodle in a science notebook, or whether you participate in a large choir or only sing your favorite song in the shower. We are all artists, and creating art is not only enjoyable and therapeutic but something much more than that; art can be a 'go-to person' or even a 'friend.'
Within Xavier College Preparatory, there are a myriad of art classes and clubs. Studio art, ceramics, theater, acting, Drama Club, choir, piano and Pierian Spring are some, just to name a few.
Students are not limited to a few options, and therefore they are able to choose what interests them and what type of art sparks their creativity.
Junior Kaitlyn Whallon, currently enrolled in Advanced Drawing and Painting, says that art has helped her in many ways. She speaks of art as a form of therapy, saying, "Sometimes when I have trouble expressing my emotions or I feel overwhelmed, putting it on paper helps me to feel better. Art has helped me to find who I am, to pave a path of what I want to pursue in life."
Whallon says that drawing helps free her mind and poses a distraction from the chaos of everyday life. "When I draw, I'm in my own world, free from distractions. I like to put on music, draw what I'm feeling and hear," she says.
Senior Ava Novack Buckley shares a similar relationship with art, saying, "Art helps me to identify how I'm feeling. Instead of having to say something, I can express it in shapes, forms and colors."
Buckley says that she draws her inspiration from "people and places I see in my day-to -day life, from cherished memories."
Senior Bryn Murphy, senior editor of Xavier's poetry and art magazine Pierian Spring, says that although she doesn't create art that much herself, it still is extremely beneficial and important from an onlooker's perspective. 
Murphy sees art as a window into the past, specifically photography, as she says that it can be a personal expression of how someone sees the world. 
Whether one creates art, appreciates it or both, it can be a form of stress release, a place to focus and possibly even a benefit for people battling health conditions such as addiction, according to scientist Girija Kaimal who studies art therapy. 
Luckily, creating art is easily accessible. Art is all around us. 
Students at Xavier can attest to the benefits of participating in an arts class. 
Senior Grace Morgan, who is currently enrolled in Honors Choir III, said that she never intended to take choir. She had originally wanted to take drawing and painting, but was selected for a freshman choir class and fell in love with it. 
Morgan says that participating in an art class has given her a sense of community with her fellow classmates, and also has even helped her appreciate other music artists. 
She states that singing has a large effect on her emotionally. "Singing makes me happy. At a rehearsal before our last pageant, we sang a song we had been working so hard on. [We sang it] nearly perfectly for the first time. I started laughing because it brought me so much joy."
Morgan has noticed that singing not only has an effect on the singer, but also the audience. She says that her class will often receive emails from people who listened to her group sing saying how much their song had an impact on them and how beautiful it was. She says the impact on people and others is super cool.
Art, in all its forms, can mean something different to each person. It can help people to express themselves, heal through hard times, reflect on memories, act as a calming device, or just be a pastime. 
No matter how we interact with art, we all create art and appreciate it in our own unique ways.