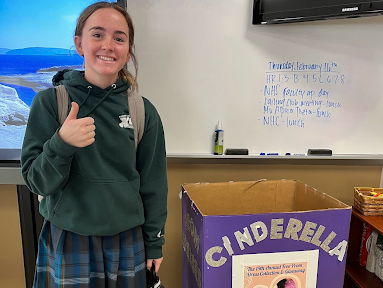 For every girl, prom is one of the most awaited events of the year. According to Amarra's (a designer dress shop) website, "The prom dress will likely be the most expensive part of attending the dance, with the average spending between $85 and $700."
Prom dresses are a way to express one's style and represent one's self for a special evening. However, they can be costly, making it difficult for some students to afford them.  
"Every girl deserves to feel like a princess" is the slogan for the Cinderella Affair organization, located in Chandler, Arizona. The company collaborates with volunteer establishments throughout Phoenix to help promote and support its mission. 
The Cinderella Affair's mission is to help junior and senior girls achieve a memorable prom experience by helping them find affordable items to do so. One such partner of the Cinderella Affair is Xavier College Preparatory. 
The Cinderella Affair event occurs in two parts. The first is on Saturday, March 25 from 8:00 a.m. to 3:00 p.m. and the second is on Saturday, April 1 during the same time frame. During this period, the first 300 girls are allowed entry into the boutique, where each can try on a maximum of five dresses for 15 minutes. Once in the dressing room, each is given 20 minutes. Afterwards, girls are allowed to pick out other accessories, visit seamstresses and fill out all final information regarding dress selections. 
The Cinderella Affair's headquarters, referred to as "The Cinderella Castle," is located at 411 N. McKemy Avenue in Chandler, and it allows people to donate accessories, pairs of shoes and dresses through its website  or at its drop box location. 
Xavier's Key Club, which promotes community volunteerism, sponsors the Cinderella Affair yearly. 
"Xavier has operated with The Cinderella Affair for the past 10 years, even during the COVID-19 pandemic," said Key Club moderator Alison Mead. "[Xavier] girls are able to get one hour of service for donating dresses, accessories, shoes, purses, etc. in the boxes that are available outside of Founders Hall and the attendance office."
Each year, the drive has been highly successful. Key Club president and senior Claira Chong says, "We are able to raise a lot of donations for people who need them. We give back to the community and make the girls' proms memorable and leave an impact, which is why it's my favorite drive."
Once the two boxes on campus are completely filled, the drive concludes and the fashionware is taken to The Cinderella Castle. Sophomore Presley Kaiser drives the dresses and other prom accessories to their destination. 
"I'm part of the National Charity League, and I decided to take on the Cinderella Affair Project to host a donation box at Xavier. I was president of the National Charity League for a year, but I am in charge of hospitality now," said Kaiser. "It feels great to be a part of something bigger for so many young women out there."
This non-profit organization has helped high school junior and senior girls of Phoenix prepare for one of the grandest galas of their lives.
Kaiser adds, "This charity event really helps those in need and is an extremely good cause."