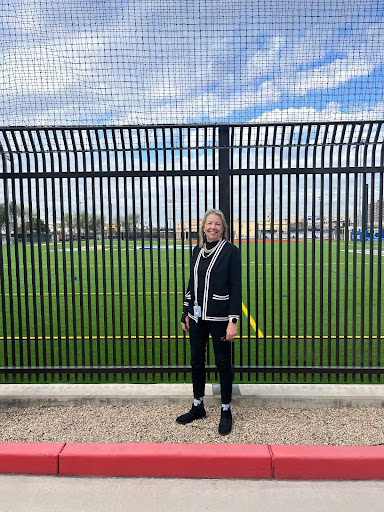 As high school students, we all have dreamt of what the future holds. Some of us want to be doctors, others lawyers. Whether you want to be a historian or an artist, your dream can come true.
Lisa Zuba, Xavier's director of marketing and staff development, is an embodiment that dreams can come true. Zuba has worked with nonprofit organizations her whole life. One of her occupations was the Major Gifts Director at an addiction hospital. Her team and she raised close to $7 million for those in need. 
Zuba's successful theory to connect with her donors was to ask people for help instead of asking them for money. 
"I believe deeply in the nonprofit sector. There are so many worthy nonprofits with important missions. They need funding. They need help. I wanted to do whatever I could to help nonprofits get the funding necessary to fulfill their missions and change the world."
She had always been asked, "How do you ask for money?" Along with this, she also worked with investigative journalists for some time. Because of her longing to change the world, Zuba wrote a book, "Get Major Gifts."
Zuba's husband, Dr. Clayton Zuba, AP English III teacher and Pierian Spring moderator at Xavier, stated that his favorite part about Zuba's writing was how she made complex ideas sound simple. 
In high school in Virginia, 40 minutes outside of Charlottesville, Zuba knew she wanted to be involved in social studies. She turned her love of social studies around to continuous jobs in business. 
Zuba holds a bachelors of science degree in Applied Organizational Science and a masters in Nonprofit Management and Strategic Fundraising. 
Her background has not gone unnoticed. She was recently invited to Guatemala for a writing workshop by Joyce Maynard. 
Joyce Maynard is an accredited American novelist. Some of her famous novels include "Count the Ways" and "The Best of Us." Her workshops are conducted in her own house in Guatemala and are incredibly selective with only 10 people attending.
Zuba hopes that the next step in her career is to release a novel. When asked what advice she would give her high school self, Zuba responded with what she calls her life mantra: "Failures are a part of life. You just have to keep moving forward." 
Zuba's background parallels that of present-day Xavier students. Junior Ryleigh Mangundayoa says, "I have found inspiration in opportunities to learn about the global health aspect of medicine through my parents from the Philippines and my volunteer experience. Serving a meal to children in the slums of Manila has shown me the health inequities of the marginalized, and I hope to help them in my future."
Zuba offers an additional piece of advice:"Always keep what is important to you at the forefront of your mind."