Student turned reporter: Victoria Olguin races into NASCAR Championship Weekend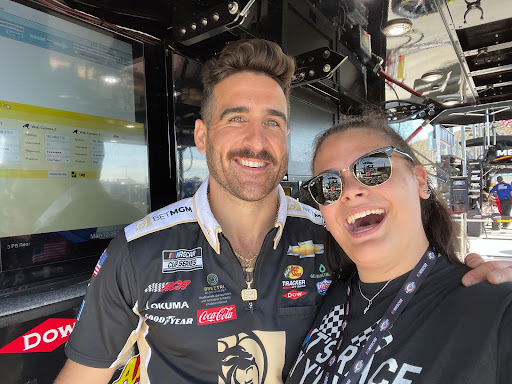 Sunday March 12, Xavier student Victoria "Tori" Olguin '23 attended the United Rental Work United 500 at Phoenix Raceway as a member of the media. The event was part of the National Association for Stock Car Auto Racing (NASCAR) Championship Weekend held in Avondale, Arizona. 
Olguin filed a media credential application in early March with the help of Xavier video production teacher Sanford Worth.
As a current student in Worth's video production class, Olguin mentioned her aspiration to become a NASCAR reporter. "We were talking about cars . . . . He (Worth) was shocked I knew so much about racing." 
Worth notes the importance of creating opportunities for students regardless of their interests. In the case of Olguin, Worth said, "We made the connections to make that happen." 
According to Worth, the video production class not only creates assignments in the "sandbox" of Xavier curriculum but in turn creates opportunities outside the box for students.
Olguin said no other educator helped her achieve a goal, at least not like that. 
She used both Instagram and YouTube to upload her self-produced media content. A week prior to the race, Olguin announced, via Instagram, that her media credential had been accepted. Support flooded in from Xavier peers such as senior Serena Mendez '23 commenting, "It's a huge accomplishment." 
Olguin's YouTube channel, "Talkin' Racing With T-Bone," was created just weeks prior to the race. Despite the recent launching, an interview Olguin conducted with two-time NASCAR champion Joey Logano reached two thousand views. 
"It was hard to meet drivers at first," said Olguin, "but thankfully I have a really good relationship with Paul Swan." Swan works on driver Austin Dillon's pit crew but is also viewed as a TV personality for his time on the reality show "Life in the Fast Lane." Olguin pre-arranged an interview with Swan over Instagram direct messaging.
Olguin then met with driver Eric Almirola. "I always thought he was really mean . . . . I've only seen how he is on the track," she said. Once Almirola learned that Olguin stood as a representative of Xavier's video production class he was, "all about it." 
Olguin definitely plans to return to the racetrack as a member of the media. 
She found inspiration in Jamie Little, a female NASCAR pit reporter who is credited as the first woman to call a live television play-by-play during a national racing event and the first female reporter to broadcast the Indianapolis 500 and the Daytona 500.
After the NASCAR Championship Weekend concluded, Olguin captioned an Instagram photograph with, "I am so glad I got a head start on my dream…onto the next one!"
"Embrace what you're passionate about, and tell your teachers about it," Olguin said.