To Fall and Fly: Lacrosse, tennis and softball conquer spring season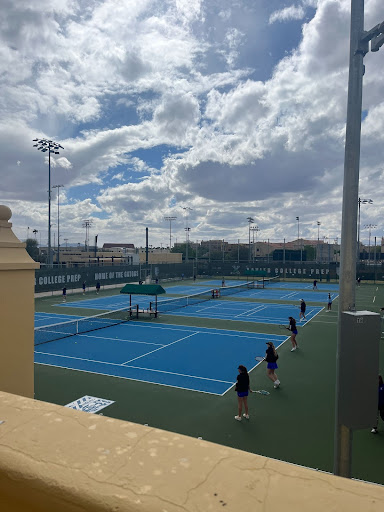 Olivia Garcia, Staff Writer and Best of SNO award-winning writer
April 28, 2023
Whether it's on the field during an intense match or hitting a homerun, Gators fight for victories. This season, lacrosse, tennis and softball have learned new mental lessons, exceeded their own expectations and stayed strong against their toughest competitors.  
Lacrosse sparked popularity last year, due to the addition of a JV team. This caused more girls to have an interest in the sport and tryouts.  
Xavier's varsity lacrosse team has had a total of ten wins this season, beating opponents such as Notre Dame Prep, Salpointe Catholic, Cactus Shadows and Horizon. 
Sydni Mackey '25, varsity midfielder and former JV team captain said, "Throughout this season, I was hard on myself. I got very upset when I missed a throw or dropped the ball, but I learned to understand that it's OK to mess up because mistakes don't define you." 
Mackey was new to lacrosse last year and when she was chosen as captain she was "incredibly grateful, [she] bonded with [her] teammates and learned the true value of lacrosse: It's okay to fall as long as you get back up." 
The Xavier softball team has hit home runs and struck out this season. With only winning a few games this season, softball has had a total of 8 wins and 13 losses.  
Head coach Bradley Downes said, "Softball is challenging, as success in the win-loss column involves more than just physical softball skills. We are privileged to get to work with kind and committed student-athletes on a daily basis." 
XCP's softball team is ranked 16 overall in the 6A Premier Division, however they still stand victorious against opponents including Chandler, Corona del Sol and Desert Ridge.  
"Softball is a game of failure and opportunity. Players can play well and lose. Players can play poorly and win. More opportunities present themselves in the game. If individual players don't move past failures, they will not have the opportunity they seek," Downes said.  
The Gators won their last game against the Cibola Raiders on April 26 and are headed to state against Queen Creek, April 29.  
Xavier varsity tennis has soared this season. The tennis team stands at number one overall and ranked number two in the overall Division I Premier. Throughout this season, the team has only had one loss. They've beaten rivals Perry, Chaparral, Desert Vista and Sunnyslope. 
Head varsity tennis coach Khristen Vanderway said, "I love that I get to give back to the sport. Watching the girls work so hard sometimes and then achieving a win has been the most rewarding. We have exceeded goals. The girls have done a wonderful job supporting each other as a team," Vanderway said.
Junior Dani Dyer '24 said, "I'm proud of how we've done this season. In a loving and supportive environment, it's easier to get motivated by spending time with the girls who want to see our team succeed." 
Dyer is number one overall in singles and doubles (with Belani Soto), which she said is" [her] greatest achievement this season." 
Dyer concludes, "We have so much to look forward to in the near future," referring to the Gators who are competing for the state championship. The team's next match is May 2 at Horizon High School.