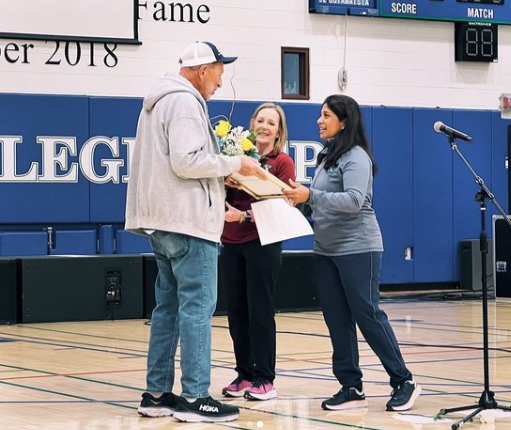 On March 30, the Arizona Skeet Shooting Hall of Fame welcomed coach Brian Trapp into its fold. Trapp is Xavier's head coach for Hotshots-Clay Targets.
Skeet shooting is an activity where participants use shotguns to attempt to break clay targets that are sent into the air at different angles.
Trapp has been involved in skeet since 2008. Since then he has accomplished over 50,000 registered targets during competitions.
Trapp has been a director, officer, and member of the Arizona Skeet Shooting Association (ASSA) and he also held the positions of secretary, vice president and director. He currently serves as the president. 
Along with being in the ASSA, he is the vice president of the Clay Busters of Arizona Inc, which is an organized club for skeet shooters. 
In addition to his list of accomplishments, he was one of the founders of the Ben Avery Clay Busters, and he went on to be one of three founders of Clay Busters of Arizona in 2014.
Trapp has been an instructor to youth around Arizona. He was a coach for the Clay Crushers team, and he soon went on to become the coach for Xavier's hotshots/skeet team. 
In 2021, he went from becoming a Level 1 instructor to a Level 3 instructor in the National Skeet Shooting Association (NSSA). Each level represents how much one has learned about coaching and the higher ranks show levels of expertise.
Trapp has contributed over 2000 hours to being a skeet coach.
"Coach Trapp's love and dedication to the sport has truly been inspirational. He was the first person to bring me out on the field and teach me the ins and outs of the sport. Due to his influence, I too have become as passionate about the sport as he is," said sophomore Savannah LaBerge.
He has dedicated time and effort at Xavier, and he shows his love for the sport through his coaching of the students. 
Throughout his term at Xavier, Trapp has successfully helped to add numerous girls to the team, and gain awareness for the club. 
Senior Berdina Riggs, another one of his students and competitors described Trapp as "super understanding and you can tell that he loves what he does. He is always willing to help, and puts in countless hours of practice with each of the girls. He's a person who will always help you reach whatever goal." She also added that he is like a grandpa who wants all of his kids to succeed.  
When his induction was announced to the entire school, Trapp expressed, "I was very appreciative and honored that my peers recognized my efforts to advance and grow the sport I love."