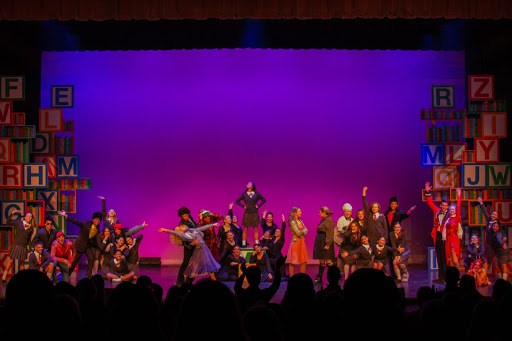 At the end of every school year, the theater department announces Xavier's plays and musicals for the following year. This is an exciting time for most, but what goes into such a crucial decision? 
Xavier's newest fine arts teacher, Sarah White, explained that the preparation for next year's shows has already begun. 
"There's so many different things you have to consider while choosing [upcoming shows]," White says. "It's not just, 'What's a fun show that I like?'" White says that some of these factors include interest, actor availability, ticket sales and buying rights. 
Fellow fine arts teacher, Teresa Corderman, added that the importance of knowing what scenery is required for a particular show and how easy it is to make them are also key elements. 
"Do we have the time to build the set that's required? Do we have the budget to build? All of that is taken into account," Corderman said. 
As the school year progresses and White continues her research for possible shows, she must also take into account the actors Xavier and Brophy have to offer. "Thankfully, Xavier has always been known for having incredibly-talented theater performers," White said. 
She spoke about the importance of making sure that there are enough students to fill the cast requirements for any shows she is considering. "It's really about knowing your school and the people who are interested in theater," White said. 
With her students, White also values choosing a show that will help them grow as performers. She said specifically that the upcoming show "Murder on the Orient Express" will help students work on tension-building, a skill that could come in handy for any further work in the drama world. 
White also has to look at what buying rights are available at the time. If a show is currently on Broadway or if another school in the area is doing the show, then a different one must be chosen for Xavier. 
"There is a whole other world that I think a lot of people don't know about with [buying] rights," White said. 
One of the most important factors in choosing the show is also what would be popular enough with the audience to generate interest and ticket sales. White explained that this was one of the reasons "Murder on the Orient Express" was chosen, because of its compelling storyline and extremely popular author, Agatha Christie. 
After all of these logistical things are figured out and the decision is made, anticipation among students begins to build. 
One theater enthusiast, Delaney Buckel '25, said, "I honestly don't even know many Boadway shows but it's just so exciting to find out what we're going to be doing next year." 
Buckel adds that a big part in this excitement is getting to research the show to find a character you would most like to play. "Even if you don't get the character, you're still like 'oh my gosh, this is such a fun play,'" Buckel says. 
It is clear that with both students and staff, anticipation for the announcement of next year's shows grows every day.