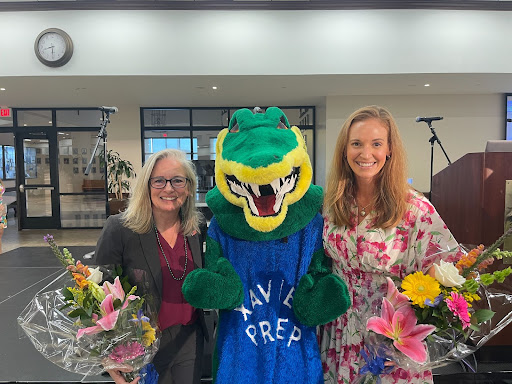 Xavier College Preparatory, an all-girls Roman Catholic high school, opened to the students of Phoenix, Arizona in 1943. Since then, Xavier has prepared young women of faith for the world that awaits them.
Beginning at the present location of Brophy College Preparatory, an all-boys Jesuit high school, the sisters of Charity of the Blessed Virgin Mary welcomed a class of 22 students, 11 boys and 11 girls. 
"Xavier was on Brophy's campus in 1952 when Brophy reopened and we shared the facilities of Brophy until 1955 when the original Fitzgerald Hall of Xavier was built," Sister Joan Fitzgerald, president of Xavier, said.
Once Fitzgerald Hall was built, the campus of Xavier continued to grow. Sister Lynn Winsor, vice principal for activities/athletics at Xavier, said, "Though there have been a lot of changes on our campus, the academics are the same."
Throughout Xavier's 80 years, it has continued to be known for its academics. As times have changed, Xavier has been able to adapt to the new challenges of its time, including technology, and it has continued to maintain excellent academics. 
"Computers were a big machine in somebody's office but now we are walking around with computers. The transformation of technology has transformed education," said Fitzgerald.
Polly Fitz-Gerald, director of alumnae relations at Xavier, said, "What Xavier has done is we have changed with the world."
Not only has Xavier changed with the world but Xavier has changed the world itself. Xavier was the first school to introduce Christian community service work. "Xavier offered an optional Christian service program, which later became a required program for students in 1987," said Fitzgerald. 
Being the first school of community service is one of Xavier's accomplishments, but there are more accomplishments over the past 80 years. 
"In 1987, Xavier was the first school to have the dual enrollment program for students," said Fitzgerald. The dual enrollment program has allowed many seniors to graduate with associate degrees. 
One of the greatest accomplishments of Xavier is the community that has been created. Many of Xavier's alumnae come back to campus to reunite with life-long friends created at Xavier or to speak to current students about their experiences at Xavier and in the outside world.
Recently hosted at Xavier, the annual X-Breakfast occurred on September 14 which was a breakfast auction and speaking event that raised money to the Xavier scholarship fund for student financial aid. 
The X-Breakfast celebrated the 80-year anniversary of Xavier and hosted Xavier alumnae guest speakers, Paige Crist and Cathy Clements. 
Both speakers spoke to alumnae, business leaders and the students of Xavier about their careers and accomplishments after Xavier. At the end of the event, Xavier students asked the guest speakers about their experiences at Xavier and what advice they would give to Xavier students now.
"Xavier is excited to promote its 80th anniversary with visuals throughout campus, celebrations, and the student journalism and writing about Xavier's 80 years," said Fitz-Gerald.