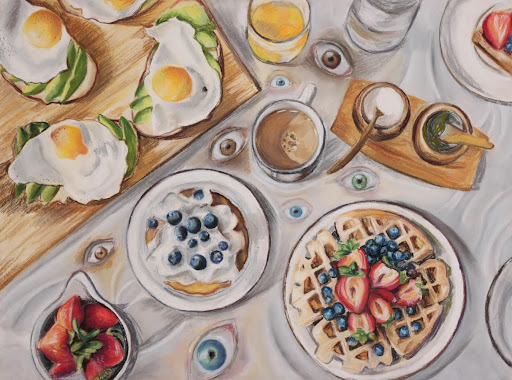 Last year, then Xavier junior Chloe Chun '24 submitted an artwork entitled "I Just Can't" to The 17th Annual K12 Art Competition. On March 21, 2023, Chun was announced as a semi-finalist for the competition. What she wasn't expecting was for the CEO of the Stride Corporation to ask her if they could house the piece in the Center permanently. 
The Center, located in Washington D.C., houses artworks associated with the K12 competitions which are affiliated with the Stride Corporation.
Practicing art ever since she was young, Chun was traditionally trained in calligraphy and ink paintings in Korea. Her style usually consists of seoya and sumukhwa which are Korean forms of art depicting landscapes in black-and-white ink wash paintings. Today, Chun has a more blended appearance of painting which merges her Korean and Western art styles.
Currently taking AP Studio Art at Xavier, Chun first made acquaintance with her now teacher Alison Dunn during her junior year. Dunn observed that, "Chloe came to visit me and she was not my student at the time. She came in and introduced herself and said that she was working on an art project and wanted my input."
As Dunn garnered more visits from Chun, Dunn noted, "She would only come in for advice about techniques but primarily did everything on her own; she's self-starting."
Her semifinalist piece took about two months to complete. Chun said, "I had a pretty clear image in my head about what it would look like and I imagined a canvas with eggs because I like eggs." 
The artwork is of a dining table depicting a fruitful breakfast resting on a tablecloth that is scattered with wide eyes staring at the viewer. Chun said, "It's about eating disorders at an American breakfast table. The eyes and the use of colors make it unsettling." 
Chun's gentleness in her artwork is shown with the light colors and blended shadows which give the viewer a calm feeling. The eyes create a sort of uneasiness for the viewer, as if the food about to be eaten is being calculated. Chun takes on a number of challenging subjects in her artwork, as seen through this piece. Through careful practice, she has cultivated the skills with both accuracy and subtlety.
During the pandemic, Chun reflected that her own struggles weren't with classes but with eating. She stated, "It's for me to elicit my feelings of how I felt during Covid, a period of disordered eating."
Naming the piece was easy for Chun. She said, "It's just the spree of the moment; how I felt when I saw the painting."
Although most artists would submit their pieces for cash prizes, Chun simply wanted her message to be seen by people. She explained, "Specifically in Korea, [eating disorders are] a taboo subject. You're not supposed to talk about it, but it's really nice to have a realm like art to disregard social factors."
Dunn said that in Chun's artworks, "She has a more advanced thinking about the subject matter and meaning in her work." 
Getting the news of her award and request from the CEO of the Stride Corporation, Chun was conflicted. She stated, "I was really excited because I did not expect it to be that interesting but also sad because it was my favorite painting. I am happy that the people who have struggled with eating disorders will understand my theme." 
Elise Kindle '24, one of Chun's peers, said, "I've seen a lot of her art, which all have thematic meanings. The whole reason she does art is to interpret something in her own way."