Xavier athletes going on to play collegiate sports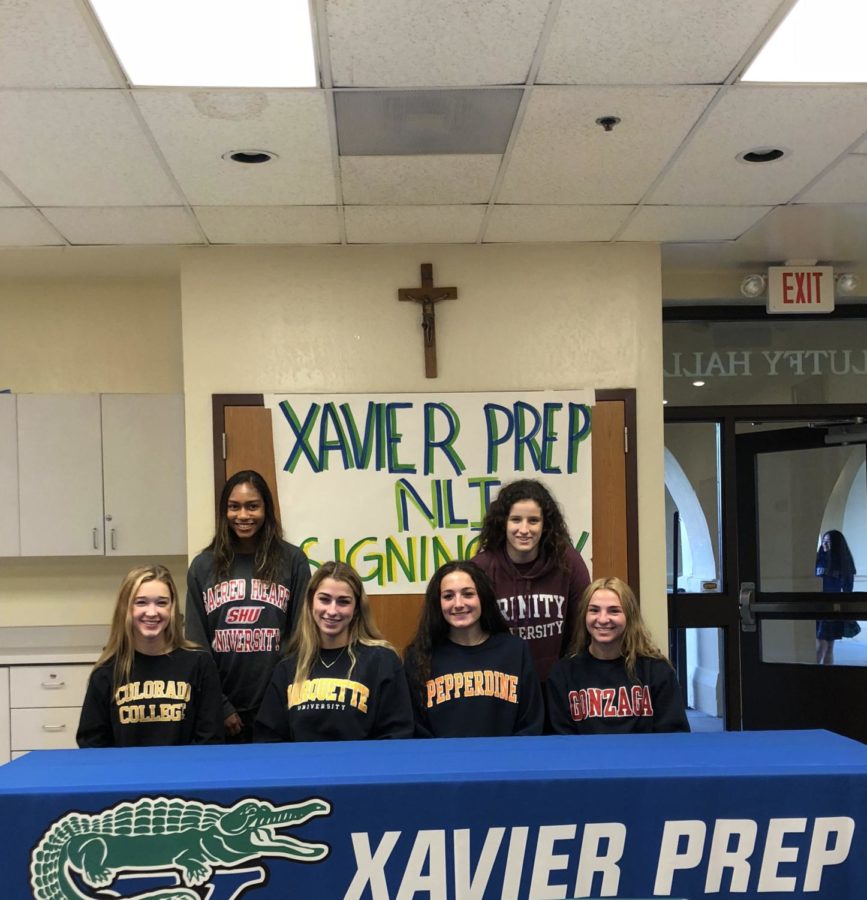 Xavier College Prep has such an excellent athletic program that teaches athletes the tools of teamwork, work ethic, and discipline which is extremely helpful to athletes that wish to pursue their athletic abilities to the collegiate level. There are 22 athletes that have committed to play collegiate sports that are graduating from the 2018 class of Xavier.
Sand volleyball player Caroline White will be playing at TCU, Alyna Draper will be playing volleyball at Virginia Commonwealth University and Erika Snopko will also be attending CSUSB and playing collegiate volleyball there as well.
Other athletes, such as Lainey Wagner will be playing volleyball at Lipscomb University, and Alexis Maria Diaz-Infante will be playing volleyball at Scottsdale Community College. Sand volleyball player, Kailey Klein, will be playing at CSUN. Katie McCoy will be attending Boise State University and participating in collegiate swim there, and Kyle Gunzy will also swim for Loyola University Maryland.
Montana Oltrogge will be playing collegiate basketball at Idaho State University, and Caroline McClelland will be running cross country at Boston College next year. Gabby Leier will be on the cheer team for Indiana University next fall and Brianna Rosevelt will be at Hawaii Pacific University and competing in acro & tumbling competitions. Lacrosse player, Caylie Wagner will be attending CSU Pueblo and playing collegiate lacrosse there. Softball players such as Melissa Fedorka, Jordan Bassett and Mercedes Silva will be playing collegiate softball. Fedorka will be playing at Lehigh University, while Bassett is playing at Claremont McKenna College and Silva is at MVSU.
Kinsey Ehmann will be playing collegiate soccer at Pepperdine University next year while Hannah Hale is also playing soccer at Gonzaga University. Abby Hubbard is going to play collegiate soccer for Colorado College and Madeline Warren will be playing for Marquette University. Jessie Simmons will be playing collegiate soccer at Sacred Heart University and Kaity Ward will also be playing college soccer for Trinity University.
Xavier has an outstanding senior class full of amazing student-athletes that all have opportunities to pursue the sport that they are passionate about at the collegiate level!