Halloween movies on Netflix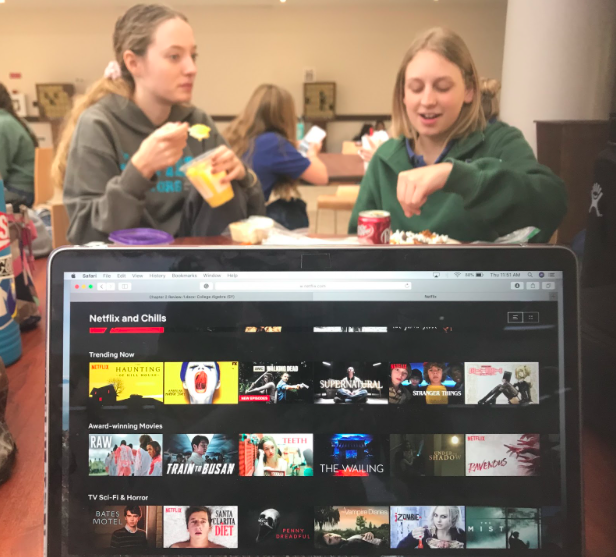 Hannah Shulski, Faith in Action Editor, Class Writer
October 18, 2018
It's spooky season! This means it's time to curl up with a blanket, a hot cup of apple cider, and watch festive movies. It might be difficult to choose what to watch, as streaming platforms such as Netflix have a vast selection of films. Here, we have narrowed down Netflix's newest to give you the most interesting and entertaining Halloween movies.
If you're in the mood for chills
Haunted houses can be a hit or miss in horror. The Conjuring is a film that plays the classic trope perfectly. In the movie, a married couple that works as freelance exorcists help a young family living in a house possessed by demons. However, the exorcists realize that they are not dealing with a normal possession and must race to save the family's lives. The Conjuring pays tribute to The Exorcist but still manages to feel fresh.
Jack Nicholson delivers a frightening performance as Jack Torrance, a writer who
watches over a snowy Colorado resort with his family and eventually descends into
madness. Often hailed as the best horror movie of all time, The Shining boasts a
haunting narrative, beautiful cinematography, and several unforgettable scenes.
If you're in the mood for thrills
This M. Night Shyamalan flick features Bruce Willis as a child psychologist trying to help his new patient, a young boy with strange powers. The psychologist discovers that his patient is is dealing with something much more sinister than usual. Even though The Sixth Sense will celebrate its twentieth anniversary next year, its ending still shocks viewers today.
Do you want to watch something so mind-bending that you can't stop thinking about it for days? Then Donnie Darko is perfect for you. Starring Jake Gyllenhaal as the titular character, Donnie Darko is about a troubled high schooler that has visions of the end of the world. The indie thriller mixes in elements of sci-fi and has a cult following.
If you're in the mood for nostalgia
Although this Goosebumps is a show and not a movie, it deserves a spot on this list, because who hasn't read the iconic book series as a kid? The children's horror anthology series is similar to The Twilight Zone but instead of science fiction, it features spooky stories that involve monsters and the paranormal.
The TV adaptation of Goosebumps is very cheesy and is geared towards a younger audience, but it sure is fun to watch and relive the days when you would check out R. L. Stine's famous books out from the school library.
There is one word that will bring back Halloween memories for 2000s kids: Monstober.
Disney Channel's month-long marathon of Halloween specials is something that many
members of Generation Z have grown up with. 2012's Girl vs Monster is one of these movies.
Again, we're going for the nostalgia factor here. Girl vs Monster is not an Oscar-winner per say, but it is great if you want to watch a Disney Channel take on classic monster movies.