Holiday Gift Guide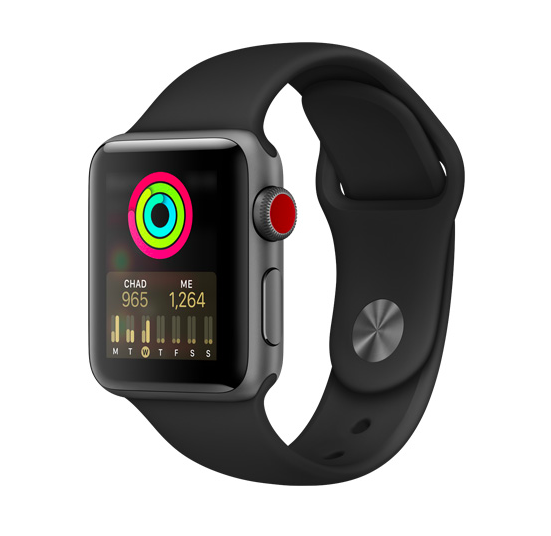 The Holidays are the greatest time of the year. However, Christmas shopping can be super stressful with having to find the perfect gift for your family members and loved ones. Below is a guide to amazing sports and fitness related gifts for those that enjoy physical activity and fitness. 
1. Apple Watch, $279: One of the most popular gifts throughout this year is the Apple Watch. The Apple Watch possesses the same qualities as an iPhone. In the fact, it shows the time, messages, emails and phone notifications in a more efficient manner. Additionally, it regulates physical activity and shows the amount of distance and speed in which a person walks/runs along with their heart rate. The watch can be found on the Apple website for around $279. There are 4 different models of Apple Watches: the Series 3, the Series 4, the Series 4 Nike+, and the Series 4 Hermes. Junior Sophia Salome has the Series 3 Apple Watch and finds it very useful throughout her daily life. She says, "my Apple Watch gives me updates from my phone and also shows me activity updates by counting my steps and keeping track of my calories burned."
2. Hydro Flasks, $30-60: Although Hydro Flasks have been very popular for the last few years, their popularity remains and continues to grow. These water bottles are extremely durable and maintain the stored beverage's original temperature for hours on end. There have been new models that are designed to store coffee and food items, as well as the traditional water bottle model. This model, which is the original, has a large variety of colors with sizes ranging from 12 oz to 64 oz, correlating with the price that ranges from $30-60 based on the bottle's size. They are a very convenient and inexpensive gift that can be found at hydroflask.com and grocery or sporting goods stores all over the valley.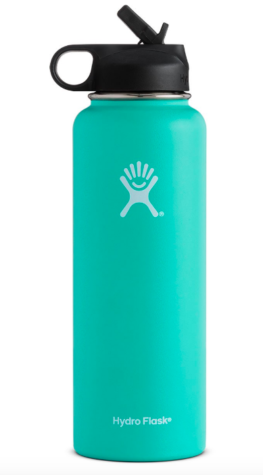 Pictured is the 40 oz Wide Mouth Hydroflask Bottle with Straw Lid. This Hydroflask bottle is a popular size for hydroflasks and showcases the unique colors offered. Photo Courtesy of hydroflask.com.
3. Adidas Ultraboost, price varies: Christmas shopping always includes a pair of shoes for a loved one, and the Adidas Ultraboost running shoes are the perfect pair. This style comes in all sorts of different colors for both men and women and can be found in many department stores such as Nordstrom and Macy's. These shoes provide an extreme amount of comfort and support that encourages movements for long periods of time. Senior soccer player Lindsay Hubbard raves about her pair of Adidas Ultraboost shoes and shares, "They're super comfortable and you can wear them to work out, but they're also cute to wear out and about."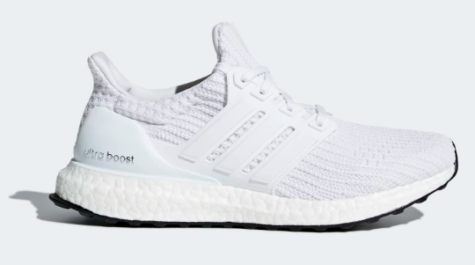 Pictured is the Women's Running Adidas Ultraboost Shoes. These shoes are very popular in white but there are also many combinations and colors available. Photo Courtesy of adidas.com.
4. Theragun, $200: The Theragun is an unknown and resourceful product thats popularity has expanded among athletes throughout the course of this year. The tool is very helpful for competitive athletes and is used to stretch/massage muscles and relieve tension. This revolutionizing product can be found on the Theragun website, where it provides stimulations of its actions. The most popular model is the G2Pro which costs around $200 and has options for different AmpBit accessories, which are the part that touch the skin. Junior Jasmine Knight utilizes the Theragun before she goes to volleyball practice and games. She states, "The Theragun helps me relax the tense muscles in my body." It is a great resource for the competitive athletics at Xavier and this product's success should be expanded to active people of all ages!"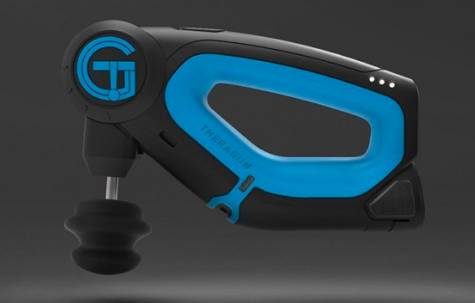 Pictured is the G2Pro Theragun model. This model is the original one and has been widely distributed to its effectiveness in relieving muscular tightness. Photo Courtesy of theragun.com.
5. Apple AirPods, $159: Recently, Apple has come up with excellent accessories that have made the use of cell phones during physical activity very convenient. One of those accessories are Airpods, wireless headphones that can connect to all Apple devices. The cordless headphones are commonly found on the Apple website with a price of $159. Countless Xavier students use their Airpods daily, especially in classes such as Weight Training or Fitness For Life. Junior Olivia Para uses her Airpods in weight training and says, "I love using my Airpods in weight training because I don't have to worry about the chord getting in my way while working out."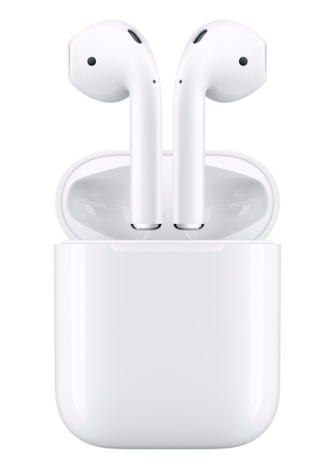 Pictured are the Apple Airpods. These wireless headphones come in a charging case and are one of the most popular technological products from 2018. Photo Courtesy of apple.com.