Shannon Shields: Gatorade Arizona Volleyball Player of Year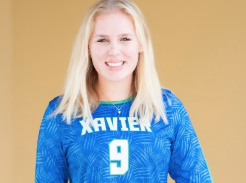 Congratulations to Xavier's very own Senior Shannon Shields who has just been awarded the Gatorade Arizona Volleyball Player of the Year! She is the fourth Xavier Gator to win this award and it is a true testament to her hard work on and off the court.
Shields has certainly had her impact on the volleyball program at Xavier. Last season, she was an integral part of the Varsity volleyball team and helped lead the team to a 6A State Championship. This past season, she took on a leadership role and served as a team captain. She again found great success as the Gators won a second-straight 6A State Championship.
In addition to team success, Shields has an impressive list of personal achievements. During her Xavier Volleyball career, she collected over 3,700 assists, 500 kills, and nearly 1,200 digs. She was awarded 6A Premier Division Player of the Year and named a Second Team All-American selection by the American Volleyball Coaches Association.
Shannon will continue playing volleyball after she graduates from Xavier. In the fall, she will play NCAA Division 1 Volleyball at the University of Louisville in Louisville, Kentucky. Xavier is so proud of Shannon and cannot wait to see what she will accomplish in college!