Haley Scott: Tragedy and Triumph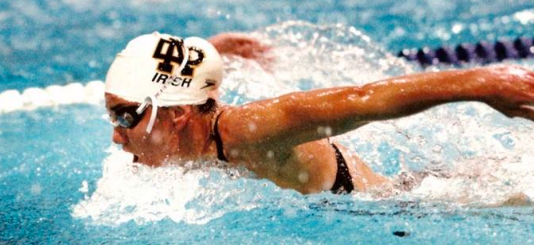 This summer's reading assignment included a book by an amazing Xavier College Prep alum, entitled What Though the Odds. The book and its author tell an engrossing story of despair and courage, along with the power of hope.  
Mrs. Haley Scott DeMaria is best known for her incredible triumph over a devastating injury she obtained in a bus accident during her freshman year at Notre Dame University. An extremely talented swimmer, she was on her way home from a meet with her team when the bus hit a slippery spot in the road, tumbling down a large incline and rolling over. Two of her friends, Meghan Beeler and Colleen Hipp, passed away in the accident. Mrs. DeMaria suffered an intense spinal cord injury: "I broke three vertebrae: T8, 9, and 10, so technically I broke my back."
Left paralyzed by her initial injuries, she had two surgeries that night, with three more scheduled less than six months later. The doctors hoped the paralysis would fade, but when it didn't, she was told she would never walk again. However, with her persistent mindset and the belief she would not just walk, but swim again, Mrs. DeMaria did just that, and she did it to honor her friends,  Meghan and Colleen. Mrs. DeMaria shared her amazing journey, details of her book, and her incredible passion for life to XPress, just before her visit for the X-Breakfast. 
While all Xavier students thoroughly enjoyed What Though the Odds, Mrs. DeMaria wasn't exactly comfortable sharing it at first. "I figured out that I needed to be at a very happy and healthy place in my life to be able to be to go back and share a very unhealthy and unhappy time." When she finally reached the point where she was ready to share her story, she was  planning on releasing it as a movie! The more she met with producers and read scripts, the more she realized she was the only person who could truly capture the story with its roller coaster ride of emotions. Now that her story is in print, Mrs. DeMaria stated the possibility of a movie is likely. 
As for why she decided to share it in the first place, she felt: "It doesn't help anybody to read a book about going through a really tough time and thinking it was easy for me to go through. It wasn't. The helpful part of the book is for people to read how tough it was, and then to know that I came out of it okay."  
When asked if she felt upset re-experiencing the traumatic times all over again, she completely disagreed. Quite shockingly, she "actually found it fascinating." As trauma prevents us from remembering all the details and feelings of the event, her memory was selective.  The way she re-experienced it all was through writing: "I kept pretty extensive journals during that time, which were really invaluable to me when I was writing the book because I was actually able to go back and read my thoughts from when I was 18, which were very funny and very awkward, but also very real." She felt interested by it because she wasn't so overwhelmed this time around. Besides, it was easier to write because she says she didn't even know if people would actually read it! 
One thing that attracts us all to Mrs. DeMaria's story are her connections to her university and her high school, both places known for their community and faith based identities. While she often speaks about Notre Dame's impact on her and her recovery, she acknowledges Xavier's influence as well. When asked how her experience at Xavier shaped her life, she remembers a specific memory: "One of the first things Xavier did was send my swim coaches back to see me, which was amazing." Even taking videos to show the student body, she was thrilled to have the support the school provided her. Xavier was a place she always loved, and only being a freshman at Notre Dame, she hadn't been away from Phoenix for too long! Mrs. DeMaria loved Xavier, because "…as much as Notre Dame would become home to me, it wasn't quite that yet. But Xavier certainly was." In fact, Sister Lynn Winsor, Xavier's Athletic Director, was the one who introduced Mrs. DeMaria to Notre Dame in the first place! Her relationship with Xavier is an important aspect of her life, so much so that she came back to the school to teach for four years. As for how she views her time as a teacher and faculty member, she feels "Those years were pretty defining, pretty life-changing, and healing for me. Xavier was just the perfect place for me to be."
Even though she doesn't work at Xavier anymore, it still remains with her. When speaking about her memories, Mrs. DeMaira exclaimed, "I still have the 1,000 origami cranes that the Xavier students made for me when I was in the hospital." Although there are no longer 1000, they were in her office when she worked at Xavier and remain in one of the bedrooms in her home in Maryland today. When she found out her book was the summer reading book this year, she was completely honored. "It's very humbling and really an honor to know that I'm a small part of the education students will get there."
Despite the help from her current and past educators, Mrs. DeMaria still had a lot  she had to go through on her own. Injuries don't just simply affect your body, but your mental health as well. She greatly credits both her mental and physical recovery to her swim discipline. Physically, she felt she was completely prepared for what happened due to her training. But mentally, swimming ended up helping her to listen to her body, and recognize when something was wrong. While she never doubted her ability to recover fully even for a second, her family was more concerned. Her relationship with her mom is a focal point in What Though the Odds, as she was by her side throughout the entire recovery process. These events could have made mother and daughter very similar, but there is one thing they do not have in common. "I don't get worked up about little things, I don't worry." She is unsure whether this trait came from the accident, and the things she experienced, or whether it's just in her human nature. 
Despite that characteristic possibly always being with her, something that definitely changed through the accident was her faith. Mrs. DeMaria didn't grow up Catholic, but after the accident she joined the Church. She credits much of her recovery not to her own faith, but the faith of others. She describes her experience: "When you are at a place in your life when you are just raw, and everything is stripped away, and you are lost and hurting, and to be surrounded by a place where the faith is just so strong you can feel it, it's amazing." 
There are many people today who are unable to do what they love, for various reasons. The thing she most recommends for those who are really struggling, physically or emotionally, is to write. She feels it was a safe place for her to get out all the emotions, and everything she didn't want to keep inside, or place as a burden on others. The other thing she recommends is to understand there's always hope. "That's probably the greatest message I wanted to convey in my book, is that life can be awful, life can be really hard, and life can hurt, and it will, for all of us. Everybody will go through something, and it won't look like what I went through, but it will feel like what I went through."
Nowadays, Mrs. DeMaria lives in Annapolis, Maryland with her husband and two kids, but her life is changed in millions of ways because of her experiences. While she's not entirely sure exactly what has changed about her, because you aren't the person you will be for the rest of your life at 18, she does have some ideas. She believes what changed is her faith and, certainly, her sense of community. "Community doesn't just show up when you need it, it's something you have to nurture and be a part of when you don't need it, and contribute to it." Most importantly though, she has learned to honor her teammates through just about everything she does. "There's a huge part of how I feel and how I live my life that knows how lucky I am, how grateful I am, and how blessed I have been by so much in my life. There's no way to thank everyone for what they've done and no way to express the gratitude that I have for all that I've been given, except to share it. To try to do the best I can to be that kindness and goodness for someone else."
Mrs. DeMaria is speaking at this year's X-Breakfast and assembly, as is Ms. Jan Petrie, another fantastic Xavier alumna. Mr. Bruggman, one of the hardworking members of the X-Breakfast Board, says the members have worked on plans for the event for roughly nine months! He says to expect some riveting stories of tragedy and triumph, and is proud and excited for the 12th Xavier X Breakfast.