Kairos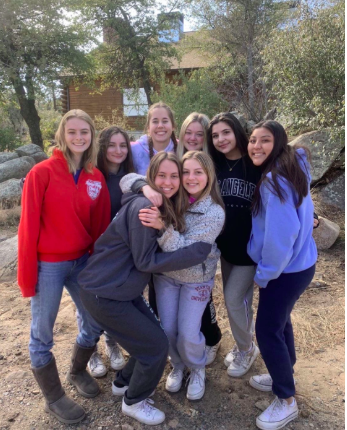 The Kairos experience is a new addition to the Xavier community's pursuit to live out their faith in action.At Kairos, students accompanied by teachers, are invited to explore their spirituality and reach a closer relationship to God. The retreat lasts three days and takes place at United Christian Youth Camp, in Prescott Arizona. One unique aspect of this trip is that participants aren't told any activities beforehand. They are told what to bring and the rest is kept a secret. This is impactful because it encourages students to keep an open mind and go into the experience without preconceptions. 
The Kairos retreat became available to the Xavier community largely due to the positive feedback Kairos received at Brophy College Preparatory. Brophy has hosted many Kairos retreats over the past 70 years, inviting their students to deepen their faith. The trip has been just as well received at Xavier and is not expected to be going away anytime soon. 
Students who have attended the trip come back with glowing reviews. Lorelei Glidden '20 discusses her time at the third Kairos retreat, "It was such a huge blessing in my life and gave me an opportunity to become best friends with girls I have never even said hello to before!" Charlotte Gillem '20 also shares about her involvement in the K3 trip, "It impacted me by allowing me to have a new perspective on certain things in my life and being more open to new people and their opinions." 
With all the encouraging feedback from students and faculty who have attended these trips, Xavier is preparing to send another group to Prescott to participate in the fourth Kairos retreat. Sophie Cohen '20 is planning to attend K4 and says, "When the K3 group got back, everyone told me it was a life-changing experience and that anyone would benefit from going on it. I didn't want to miss my opportunity because I don't think I will be able to do anything like it again." Lorelei Glidden '20 also shares her advice for the next group, "Don't be afraid to open up! You only get out of the experience what you put into it." 
Kairos is an amazing opportunity provided by Xavier to grow in relationship with God and classmates. The Xavier Community cannot wait to see this program grow as it continues.