2020 Sports Recap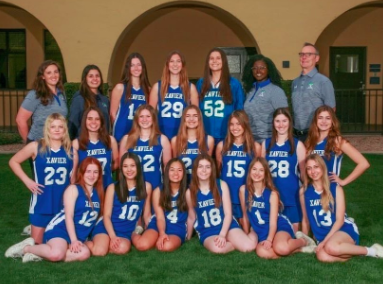 Xavier College Prep has always had a strong presence in extracurricular activities, especially sports!  During the 2019-2020 school year Xavier, athletics continued to be strong, as many teams contended for state titles and celebrated many victories and accomplishments! Due to global events and the coronavirus, spring sports teams had to cancel the majority of their seasons, which was a hard pill to swallow for seniors. From time on the field, to pregaming in the locker room with your teammates, Xavier athletics has been a monumental experience for many members of this year's senior class. Not only have they built life-long friendships, but they have also learned valuable lessons about teamwork, communication, discipline, and the prideful experience of playing for one's school. 
The 2019-2020 school year kicked off with the fall sports season consisting of the badminton, crew, cross country, Esports, frosh tennis, golf, hotshots, mountain biking, spiritline, swim and dive, and volleyball teams. 
The badminton team ended their season with a 10-6 record. 
The cross country team had a fulfilling end to their season, taking third place at the state meet, despite missing two of their key runners. 
This year was the first year that Xavier launched Esports, facilitated by Ms. Erika Peinado. This is a revolutionary addition to the athletic community, as girls are able to compete in video games with other schools! 
One of the best ways for freshmen to get involved within the Xavier community is through frosh tennis. Frosh tennis is a no-cut sport where the girls are able to stay active and meet new people without much pressure, considering why it was such a hit again this year! 
Xavier golf has always competed for a state title, as the golf program has won 36 state titles. This year, the Gator golf team took second place, with Senior Ashley Menne '20 was nominated for Player of the Year. Menne won three previous state championships and was named "Azcentral.com Golf Player of the Year" during her time as a Gator golfer. 
The Xavier Mountain Biking team found success this year, as their performances in races continued to improve with placing in the top 10 for the majority of their races. 
Xavier's swim and dive team ended their season with a record of 7-1, with an overall second-place finish in the state tournament. Senior Maddie Wright was named a state champion in the 100 free event. Commenting on her time as a Xavier swimmer, Maddie said, "My senior season was everything I was hoping for and I couldn't ask for a better team. Everyone worked so hard and once again proved that XCP Swim and Dive is a force to be reckoned with. I am so lucky to have been a part of this aquatic family for the past 4 years and I will always remember to feel my power!"
After returning from back-to-back state championships, Xavier's volleyball team was definitely a threat throughout this fall season. Gator volleyball ended their season with a 30-12 record and a hard-fought loss to Highland in the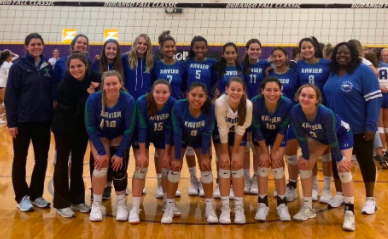 second round of playoffs. Although they didn't win the state title, the team's efforts were greatly recognized. Senior Briana McKnight and Senior Jasmine Knight were nominated as Player of the Year finalists and members of the All-Arizona Team. Senior Jasmine Knight speaks about her senior season experience: "This season was something that the whole team had to work towards, I feel like the key thing about this season was cherishing and working hard every practice and game. Everything isn't handed to us, it felt like there was a big target on our backs so we had to work at every little point, which helped get us far into the season."
Xavier crew is considered to be an all-year sport with members of the crew team putting up strong performances at various invitationals that took place locally or in California. 
The hotshots archery and shotgun teams continued to put promising performances at many tournaments throughout the year! 
Spiritline is also considered to be a year-round sport as they cheer on Brophy's football team in the fall and prepare to compete for the state and national competition at the beginning of the year. At the state competition, cheer finished sixth with pom finishing eighth. While competing at nationals, cheer finished third with pom finishing fourth. Senior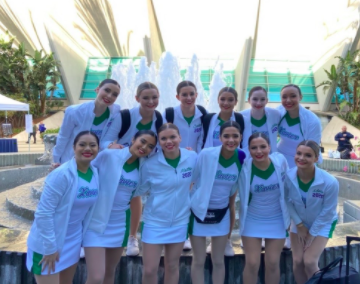 Kaitlin Gaona has been on Xavier's Pom team for four years and reflects on her memories: "My last year on Xavier Pom was definitely a year I won't forget. I made so many memories on and off the floor with my team. I am so proud of my team and all that we have accomplished this year and will miss all of them so much next year! X gon' give it to ya!" 
Around Halloween time, the playoffs for fall sports start to wrap up and tryouts for the winter sports season begin. Soccer, basketball, and gatorline begin preparing for their playoffs, which are in February, ns continue to practice throughout the holiday season.
Xavier soccer put up a great fight during the 2019-2020 season, going into three double-overtime games against strong competitors for the state title. Senior Megan Onofrei comments on her time in the Xavier soccer program, "My senior season on Xavier soccer as one of the captains was such a rewarding experience! It was amazing to see how close we became as a team throughout the season and put up really hard-fought games against our toughest opponents. Although our season ended in the first round of playoffs, I wouldn't trade my experience in this program for anything!"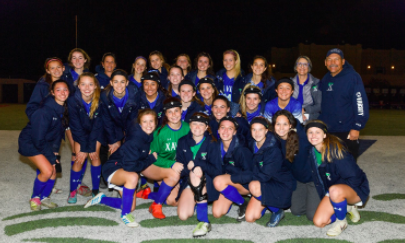 Along with soccer, Gator basketball also takes place during the winter season. The team had the desire to win a state championship after going far in the state tournament the past couple of years. Xavier basketball ended the season with a record of 18-11 and lost in the first round of playoffs after a hard-fought game. Senior Tanya Barakat reflects on their season, "My last season of Xavier basketball as captain was a fun experience with my friends! And I wish the team good luck next year!" 
Aligned with basketball season, Xavier's Gatorline cheers on both Xavier and Brophy basketball at each of their games!
The tryouts for the spring sports season for the beach volleyball, lacrosse, softball, tennis, and track and field teams began in mid-February. Unfortunately, due to the crisis surrounding the coronavirus, all of the seasons for spring sports were cut tremendously short. Each team got about a month of practice in, with not a lot of games in, before their seasons were cut short in the middle of March and Xavier transitioned to online school. 
The lacrosse team had three preseason and five regular-season games, when they were supposed to have played ten regular-season games. Senior Bridget Wickers speaks about how this impacted her senior season: "Lacrosse this year started out as the year we turn the tables and made it to playoffs and proceed to go really far!! We were shaping up to be really good and ready for every game and we were a family!! Having my senior season cut short is really upsetting to me because there is so much I had left and so much more I wanted to do with the girls on my team. I never got to play my 'last game of lacrosse' and know that it was truly over, I just got it taken away." 
Xavier's softball team had the opportunity to have quality performances in some tournaments and concluded with an 8-1 record. 
The tennis team had a promising year ahead of them, but they only had the opportunity to play four matches, eating with a record of 4-0. 
Additionally, Xavier's track and field was able to beat Perry at a home dual meet and take 9th at an invitational before the majority of their races were canceled. 
Returning from a state-championship winning season, Gator Beach Volleyball was prepared to defend their title. They dominated their opponents in the two games that they were able to play. Senior Grace Lincoln takes a look back at how much the beach volleyball program means to her,  "Beach volleyball will always be one of my favorite memories from Xavier. It was the sport I absolutely love but it gave me a family and community within Xavier that I will always love and cherish. I am so sad that our season was cut short this year, but also so grateful for the amazing memories, teammates, and coaches that beach brought me. #CAFB!" 
The 2019-2020 sports season provided Gator athletes with several victories and life-long memories and friendships. Although the spring sports season was cut short due to the coronavirus, the Xavier community will continue to reflect on our successes throughout this year as there is the opportunity to seize even more victories next year!