When can Christmas preparations start?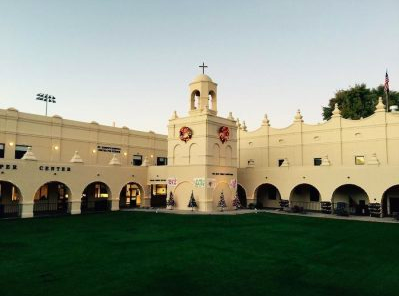 It's that time of the year again. Arizona is finally starting to cool down, Christmas commercials have started, and the great debate has begun. When is the right time to begin the Christmas season?  
Are you a lover of all things pumpkin or are you counting the days until gingerbread arrives? Starbucks may have started using their classic red cups, but is it too soon to start stringing the lights?
There are lots of strong feelings here. Some people think Thanksgiving deserves its own separate time, while others lump it into the holiday season and are off and running on November first.
One hot-button issue is when it is acceptable to start listening to Christmas music. Some people think that it can start as early as November 1, while others believe that it is OK after Thanksgiving, on December 1 or whenever KEZ begins playing it. 
Putting up the Christmas tree and decorations is another point of contention. Many people seem to use the long Thanksgiving weekend to put up decorations, while some wait until later in December.  While neither is wrong, there are few holiday zealots and those Instagram influencers who have their decorations and trees up the day after Halloween.
When it comes to other Christmas traditions such as movies or holiday foods, there really isn't a general consensus. I've seen my friends watch Christmas movies in July and I've eaten Christmas cookies long after December 25, so there's no shame if you really want to watch How the Grinch Stole Christmas or eat a candy cane in March.
Nonetheless, I do have my own set of rules for the holidays. I believe it is of utmost importance to give Thanksgiving its time to shine. Too often this holiday is overlooked, and I won't stand for it. 
After all that family bonding, food and football, it's the ideal time to start looking around for gift ideas so that you can get the best deals on Black Friday and Cyber Monday. 
It's also the perfect time to start preparing your Christmas list. Relatives are always happy to receive ideas early so they have more time to shop around.
For me, Christmas music is permitted towards the end of November. I think waiting until Thanksgiving is over is best because then it's truly the Christmas season.
Decorations should go up no earlier than December 1. My family's decorations tend to stay up into late January so there is no need to have them up for even longer. Let the turkeys have their moment before we deck the halls.
As for the movies, I tend to avoid them until Freeform's 25 Days of Christmas begins on the first of December. If you start to watch them too early, you'll be sick of all things Christmas before you reach the big day. No one wants that.
I also highly suggest avoiding Hallmark movies at all costs. You'll get sucked into a predictable plot and regret it later. 
While it's your decision, I recommend giving yourself time to enjoy each holiday separately. But whatever way you go about it, make sure to spend time with friends and family and savor the holiday season.