Frosh tennis team 'makes lemonade' at Central High School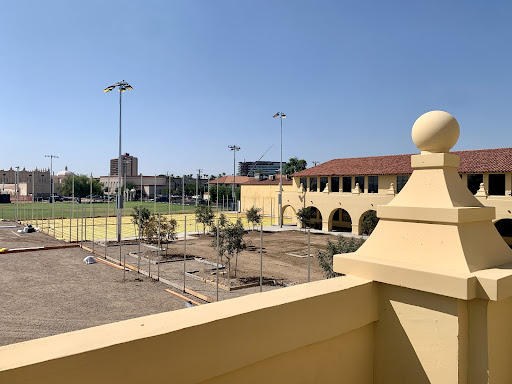 As Xavier College Prep's Stark Tennis Courts undergo necessary remodels, the freshmen tennis team has moved to Central High School for its fall season.
"It is a huge lesson in flexibility," head coach of freshman tennis, Judy Hernandez, said. "I think it is definitely a struggle, but it also is a life lesson that not everything in life is going to be as you want it to be. It's the perfect scenario, 'when life gives you lemons, make lemonade.' And you know we're doing that and definitely letting the girls know that we appreciate them for all that they do and all the adjustments they are making."
This season, there are 77 girls playing for Xavier's frosh tennis on the competition teams and the beginner groups. Despite the construction, the athletic department wanted to ensure that all freshman girls have an opportunity to be involved in tennis.
Hernandez explained, "We wanted to make sure that everyone had the same experience coming in as freshmen and being able to choose if they wanted to be a part of the tennis program."
The transition to Central High School has been an all-around team effort from the players, coaching staff and athletic department. 
Ronna Layne, the coordinator for frosh tennis, said, "I'm the cheerleader for the program." Layne not only cheers on the girls, but also arranges transportation, scheduling and the locker room for the teams. 
In addition to Layne's and Hernandez's assistance and encouragement, this year's frosh tennis coaching staff features Coach Amy Gallo, Coach Ford Oliver, Coach Barb Holcomb, Coach Lara Murphy and team manager, Alison Harris ('22), who have all worked tirelessly to make the transition as seamless as possible.
The team also receives tremendous support from the varsity and junior varsity coaches, Coach Laurie Martin and Coach Joy Rodey, as well as administrative support from Sister Lynn Winsor, Tui Selvaratnam, Ronna Layne and Susan Contreras. 
There have been many contributions from the athletic department to help the frosh tennis team. 
The athletic department has provided two buses for matches, which allows one of the competition teams to play an away match while the other plays a home match at Central.
Nevertheless, the coaches, athletic department and the players are excited about the new courts. The new facility will feature new tennis courts, pickleball courts and a back courtyard. 
Freshman tennis player Lexie Polachek said, "I am looking forward to a new design and look. I am also excited to have tennis courts on campus since this is my first year and I haven't seen what it's like with courts."
Hernandez said, "Hopefully, a lot of these girls will want to play the JV and varsity season, so we will be able to have a top-notch facility to come back to."