New SMILE campaign focuses on Baby Gators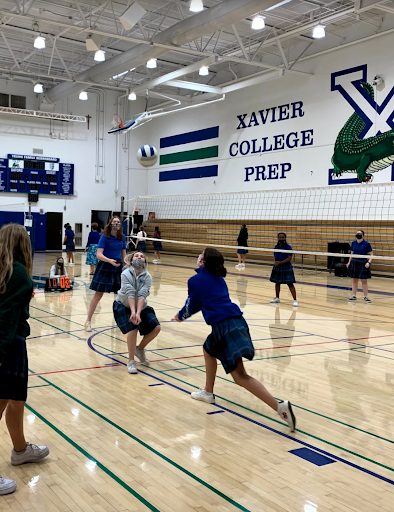 Xavier is kicking off the 2021-2022 school year with the new Sharing Memories In Loving Everyone (SMILE) campaign. The SMILE campaign focuses on the class of 2025 freshmen who are new to Xavier. 
The SMILE campaign was instituted by the Office of Orientation and Inclusion, which is led by Dean of Students Denise Macrina, guidance counselor Alexis Gonzalez and theology teacher Gina Iker. In this campaign, Macrina brings input, Gonzalez foresees how it affects students and Iker makes sure it has a Christ-centered view. 
SMILE was introduced to the freshmen during the reading of the handbook at the beginning of the school year, when students received bracelets. 
These bracelets were pink, representing the freshman class color, and had an imprinted smiley face, showing a sign of solidarity. "The smiley face is also an important reminder that you are a part of the Xavier community," said Gonzalez.
The bracelet is meant to encourage small acts of kindness and to show love to the environment and others. Gonzalez, with the help of the Senior Student Council, made 300 bracelets for the class of 2025. 
SMILE also promoted class spirit with the making of the freshman T-shirts during August. "There has never been a first rally where all the freshmen wore the shirts that were either made or alike," said Macrina.
The Office of Orientation and Inclusion is also starting the freshmen intramurals, called the Baby Gators Lunchtime League, during the week of September 20. The Baby Gator Lunchtime League promotes 300 girls to become familiar with other people in their class through sporting tournaments.
Macrina said the freshmen played a "12-team, single-elimination volleyball tournament" where a homeroom winner would result. The first competition was volleyball, and next it will be flag football.
The campaign promotes class solidarity and implements a safe environment. "A lot of the freshmen have come from schools that were only online the past school year, so integrating them back into having physical interaction with others is really important to us," said Gonzalez.
The SMILE campaign is Christ-centered as it allows people to show the love of Christ without being flamboyant. "Like in the gospels, when we see that Christ reaches out and includes people, it is something that we can do without being explicit about it, but rather natural about it," said Iker.
This new campaign follows one of the Integral Student Outcomes (ISOs), which is to "demonstrate active listening and the ability to speak articulately and intelligently in conversation, class discussion, formal oral presentation, and daily interpersonal communication."
"We are just slowly trying things out, and our ultimate goal is to be able to hold spaces for students to have vulnerable conversations," said Gonzalez.