Success in sports: Xavier alumnae have excelled in athletics across generations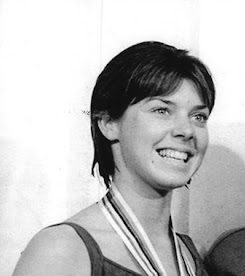 "Women of faith pursuing excellence" (Xavier College Prep's motto) is not just a saying. Xavier students, with the support of the faculty, truly strive for and achieve excellence across many fields, including athletics. Xavier's impressive alumnae and their sports achievements are evidence of, and exemplify, excellence.
One standout Xavier alumna athlete is Jeanne Collier, winner of the silver medal for diving in the1964 Olympics in Tokyo. She graduated from Xavier in May of 1964, and she made the Olympic team just three months later in August of that same year.
"It was pretty interesting because it was my first international competition. I didn't really know what to expect competition-wise because I had never seen any international divers, but the whole camaraderie with our team and meeting athletes from other sports were really fun," said Collier of her Olympic experience. "It's quite amazing to represent this country. It was the experience of a lifetime."
Sue Tubman, who graduated in 1966, became a professional golfer. She was the first Xavier graduate to join the Ladies Professional Golf Association (LPGA).
Another Xavier golfer who joined the LPGA is Cheyenne Woods, a 2008 graduate. Sarah Schmelzel, '12, another golfer, is also a member of the LPGA.
Khalia Lanier, from the class of 2016, plays volleyball professionally in Bergamo, Italy, where she moved after graduating from the University of Southern California in 2020.
"I think Xavier contributed to my success by putting me in an environment where everyone around me was accustomed to striving for success. Being able to see such ambition in an environment full of women was really beneficial for me to realize how capable I was," said Lanier.
Tennis player Victoria Palmer Heinicke, who graduated from Xavier in 1963, played at Wimbledon in 1962 when she was just 17.
Tara Koleski graduated in 1995 and played soccer professionally for the San Diego Spirit, and later played in Philadelphia and New York.
These athletes span a range of eras, representing success in different sports' climates. Collier commented on how much sports have changed for women since the 1960s, saying, "I had just graduated high school, went to the Olympics, came home, and I was invited to dive in college but they had no athletic scholarships for women at that time."
This is a stark contrast to today's athletes, as a number of girls graduating from Xavier each year are offered athletic scholarships. 
Over time, Xavier has placed more emphasis on athletics programs. Polly Fitz-Gerald, director of alumnae relations, said, "I think you have to credit Sister Lynn with all of this that has happened because she gave it the platform and the opportunity for girls to be successful in sports. She's responsible for the significance of and the attention to sports here."